Miami Heat Big Stars!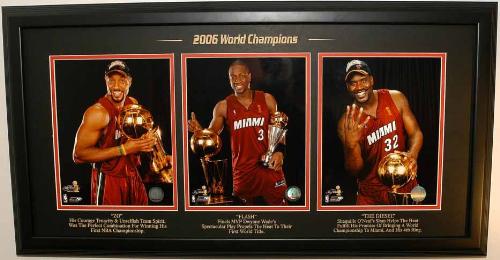 Philippines
10 responses

• Philippines
31 Jan 07
Dwayne Wade is the man for Miami Heat, I like his tricks and quick moves in playing.

• Philippines
31 Jan 07
Dwayne Wade is the real flash in Miami Heat.

• United States
31 Jan 07

• Philippines
26 Jul 07
I am a fan of the Miami Heats.. I like Dwayne Wade, he is young and he has already matured his level of game into a superstar level, he proved this when he led his team to their first nba title in 18 years two seasons ago.. He is quick and does fancy moves that are really fantstic in nature.. I like watching this kid play.. And of course, the diesel, Shaquille Oneal I think is still the most dominant center today and I gotta admit, without him in that heat roster they could've not won a championship tilte.. Along side with Alonzo, c'mon fellow get those blocks night after night.. Ijust love alonzo's passion with the game.. I love them all and hope win another title int e near future...

• Philippines
12 Apr 07
mine would be shaquille o'neal. by looking at his record, all the teams he played in have all reached the nba finals. orlando in 1995, the los angeles lakers in 2000-2002 and 2004 and the miami heat in 2006. shaq has proven to be a championship caliber player, something a lot of nba greats like karl malone and charles barkley would envy. as noted, shaq said that his legacy will be winning championships. my top miami heat players are (in order): 1. shaquille o'neal 2. dwyane wade 3. alonzo mourning 4. jason williams 5. udonis haslem 6. gary payton 7. jason kapono 8. james posey 9. antione walker



• China
17 Feb 07
i like Jason Williams,i think he's very very very creative,he has a incredible sense when he passed ball,he has so fast speed and strong ablity to get points.

• Philippines
1 Feb 07
Dwayne Wade. No one bets this guy! Great player, the real FLASH!