pollution

Davao, Philippines
5 responses

• Indonesia
2 Feb 07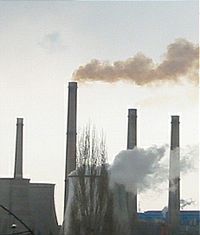 the plants manufacture their own food which bring from the root and be processed by leaf and called photosynthesis,and gases in the atmosphere will be absorb by the leaves of the plants if the air has been polluted air then the process of photosynthesis will not ferpect.

• Philippines
2 Feb 07
plants can manufacture their own food through the process of photosynthesis...and gases in the atmosphere will be absorb by the leaves of the plants...polluted air then can harm them...

• India
1 Feb 07
Pollution can also be the consequence of a natural disaster. For example hurricanes often involve water contamination from sewage, and petrochemical spills from ruptured boats or automobiles. Larger scale and environmental damage is not uncommon when coastal oil rigs or refineries are involved. Some sources of pollution, such as nuclear power plants or oil tankers, can produce widespread and potentially hazardous releases when accidents occur.

• Australia
1 Feb 07
Pretty much the same reason it damages people and animals. Pollution contains chemically active materials which can "bind" to organisms, so they can take whatever gunk is flying around into their systems. Plants get a double whammy in that it also combines with water, so they can take it up through the soil, too. One of the many reasons for being careful in the veg garden.

• United States
27 Feb 07
I do not really know for sure, but I think it kills them or something like that.