whether jesus was married or not?

India
February 1, 2007 8:10am CST
the da vinci code convinces the audience to beleive that jesus christ was married to mary magdalene. i certainly got convinced, and i certainly have begun to see christianity in a new light. the sacred feminine was abolished by our ancestors. its time we brought her back and give her equal importance in the church. it certainly makes religion whole. one half man and one half women. what do you guys think?
5 responses

•
1 Feb 07
The Da vinci code is a load of bull. Any way God does have a feminine side and I doubt Jesus had chance to marry Mary Magdalene, because not long after he rescued her from being stoned, they crucified him. Hardly time for a betrothal rather than a marriage. She was like a sister to him, all the women where. He was not going to settle down because he had too much work to do for his father.

• Pakistan
1 Feb 07
you dont get it, thats the point that he did marry as was the coustom of all the jewish men and especially Rabbis to be married at that time, the church tried to hide it beacause they claimed him to be divine, but if he did marry then it means he was just a human like you and me only more pious and just, he was a prophet with no father who will come back to this earth as he never realy got crucified, thats what my religion Islam tells me

• India
2 Feb 07
for a women you are so very against the acceptance of the sacred feminine. why do you say that the da vinci code is a load of bull. the author only tries to bring outthe truth before us. you dont want to agree with him bcuz you were thought otherwise from your parents or the bible. but remember as lea teabing said 'the bible did not come by fax from heaven'.cheers

• Pakistan
1 Feb 07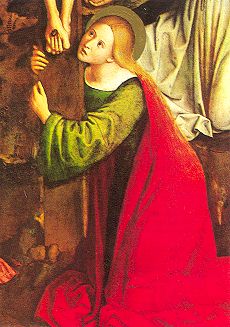 Some modern writers have come forward with claims that Mary Magdalene was the wife of Jesus. These writers cite Gnostic writings to support their argument. Sources like the Gospel of Philip do depict Mary Magdalene as being closer to Jesus than any other disciple. However, there is no known ancient document that claims she was his wife; rather, the Gospel of Philip depicts Mary as Jesus' koinonos, a Greek term indicating a 'close friend', 'companion' or, potentially, a lover. The closeness described in these writings depicts Mary Magdalene, representing the Gnostics, as understanding Jesus and his teaching while the other disciples, representing the Church, did not. Mary Magdalene appears with more frequency than other women in the canonical Gospels and is shown as being a close follower of Jesus. Mary's presence at the Crucifixion and Jesus's tomb, while hardly conclusive, is at least consistent with the role of grieving wife and widow, although if that were the case Jesus might have been expected to make provision for her care, as well as for his mother Mary. An argument for support of the married status of Jesus is that bachelorhood was very rare for Jewish males of Jesus' time, being generally regarded as a transgression of the first mitzvah (divine commandment) — "Be fruitful and multiply". According to this reasoning, it would have been unthinkable for an adult, unmarried Jew to travel about teaching as a rabbi. A counter-argument to this is that the Judaism of Jesus' time was very diverse and the role of the rabbi was not yet well defined. It was really not until after the Roman destruction of the Second Temple in A.D. 70 that Rabbinic Judaism became dominant and the role of the rabbi made uniform in Jewish communities. Before Jesus, celibate teachers were known in the communities of the Essenes and John the Baptist also was celibate. Later, Paul of Tarsus was an example of an unmarried itinerant teacher among Christians. Jesus himself approved of voluntary celibacy for religious reasons and explicitly rejected a duty to marry: "There are eunuchs, who have made themselves eunuchs for the kingdom of heaven. He that can take, let him take it." (Matthew 19:12) It has been speculated that the biblical account of the wedding at Cana (John 2)[1] was, actually, the marriage of Jesus and Mary Magdalene. Proponents of this view argue that Jesus' mother Mary advising the servants to do what Jesus tells them, reflects the role of the groom's mother, who according to Jewish tradtion was in charge of the servants at a wedding.[citation needed]The idea that Mary Magdalene was the wife of Jesus was popularized by books like the pseudohistorical Holy Blood, Holy Grail (1982) and The Da Vinci Code (2003), a novel heavily influenced by the former book. The Medieval "Golden Legend[2]" (see above) says "Some say that S. Mary Magdalene was wedded to S. John the Evangelist". The Australian scholar Barbara Thiering claims that a full account of the marriage and children of Jesus and Mary Magdalene can be derived from the New Testament by use of the pesher technique.

• India
2 Feb 07
the gnostic gospels and the nag hammadi scriptures do support the fact of the marriage of jesus.


• India
2 Feb 07
mate the bible didnt arrive by fax from heaven. it was man made as was the fiction da vinci code. if you cant beleive one, why should you beleive the other.

• United States
1 Feb 07
He does raise a lot of valid points in the book and in the movie. It does make you wonder about what the Chruch may have hidden away in it's vaults and in the past. I don't know if Jesus was married or not but it does make a lot of sense for him to be. After all just by going by the actual story he was made man, which means he was flesh and blood. He'd have the same needs for love and companionship that any man would. Also as Brown pointed out back then a 30 year old male that wasn't married would have caused a lot of questions. I believe we need balance between both male and female. That's my personal view on faith. What others decide to belief is their choice as well. I think the book and movie make you wonder and perhaps look more into your own beliefs and can in fact make those beliefs stronger by what you find when you look into them.

• India
2 Feb 07
i agree with you. thee should be baance between male and female. thats why its imoerative for us to bring back the sacred feminine back to the church. only then will religion be whole.

• India
14 Mar 07
guys my first doubt is ...Davinci lived a 1000 years ago . .how cud he know that jesus was married and how cud he draw that thing in his LAST supper ?