If you have one of them power which will be?

Portugal
11 responses


• Portugal
1 Feb 07
yeah it would be great. No traffic no time stress... The real paradise

• United States
6 Feb 07
I'd want Peter Petrelli's power. Especially after watching yesterdays episode. He can absorb others powers so I could essentially have all of their powers :) If I couldn't have his powers, then probably the waitress's power ( can't remember he name right now) I would love to have a memory like that! I definitely would not want Niki/Jessica's power. She is scary!

• United States
6 Feb 07
I agree. I'd want Peter's power because you know when he finally gains control over it he's going to be awesome. So far he has Claire's regeneration, Isaac's power to paint the future, invisibilty, and he should have the cop's power to read minds and Hiro's power to bend time...oh and Nathan's ability to fly. Woot! Go Peter! lol

• United States
7 Feb 07
I'd want Peter's power, provided I was around plenty of other heroes. If I didn't have access to a bunch of powers to borrow, my second choice would be the waitress' power. That was awesome.



• Philippines
6 Feb 07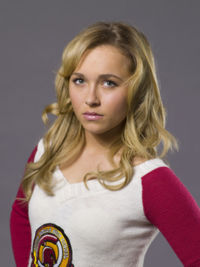 I'd like to have Claire's power to heal or spontaneous regeneration. , that way I can fight for people without getting hurt. Claire in heroes rarely shows visible signs of pain after being injured, since she fails to notice several broken ribs on one occasion and does not complain when her head is twisted 180 degrees.



• India
2 Feb 07
i think the collest super power would be to control time. then you have all the time in the world to do all the things you want to do in life a.k.a bill murray in groundhog day. the other cool power is to be able to heal oneself, but if one can control time then you can stop yourself from getting harmed and would not need to regenerate.