are woman allowed to be funny??????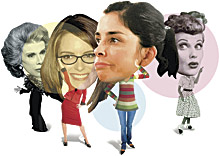 India
February 2, 2007 7:58am CST
yet every step forward,say many cultural and comic observer, when it comes to be funny, women still facing many prejudices. witness the recent column in vanity fair "womens are not funny" written by christopher . and despite this fact his ABC COMEDY employed many funny women.. so what you think .. controversy is in the air..
1 response

• United States
2 Feb 07
I think woman can be absolutely hilarious!!! I mean there are men comics that are totally boring. It really all depends on the individual and their perception of comedy. I have a friend and we are total opposites when it comes to comedy. Something will have her rolling on the floor laughing and I will be sitting there thinking that it was the stupidest thing I ever heard. But on the other hand it will be me crying from laughter and she will be like "that was not even funny". So it really depends on the individual.