Shed tears for your pet?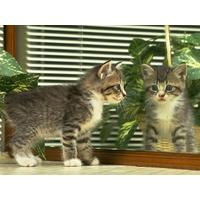 Philippines
February 3, 2007 7:01am CST
I once cried with my pet cat when my father hit him for he got to bump my father when my father was carrying a boiled soup upstairs. My father hit him that much that the cat cannot even now use his left back legs. That's why after that incedent, i was then in our study table when i heard the cat crying too much. And when i look for him, i found him looking up unto his bed up to the top part of my bookstand where i used to let him sleep there. He cried because he can't anymore climb up to the top maybe because of the pain of his leg. I feel so pity with him that's why i carried him with my teary eye and put him unto his bed. Yet by the time i can hear his cry, i immediately went to help him for i know that that cry of him means that he's asking for my help. I've been into taking care of him for almost two to three weeks until his legs was already okay. And since then, the cat seems so very close to me that i sometimes feel him talking to me with the way he meow in front of me just like as he was confiding to me. How about you guyz there? Have you experienced one?
2 responses

• South Africa
3 Feb 07
Your father is a mean man, and he should not have hit the cat that hard that it could not use his hind legs...that really is animal abuse! I hate it when people take their frustrations out on a defenseless animal. I am glad to hear that the cat has recovered though, you have made him your confidant, and we will look to you for protection from now on. Keep him safe, and AWAY from your father, please!

• Indonesia
4 Feb 07
i really love my dog. when something happen with my dog, i don't know how to tell my feel for the reason. also i cried when my dog was die about 4 years ago.