How many other ways do you make money on the internet?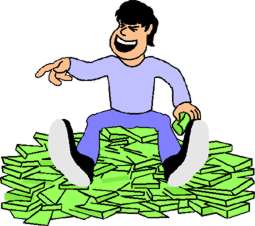 United States
8 responses


• South Africa
11 Feb 07
I am newbie photoblogger
@
http://memyselfandmyslr.blogspot.com/ On my blog you will find the following: 1. A gallery of my digital photography 2. Make money by displaying/selling your photo's online 3. Links and articles about improving your own photography 4. Make money with chatting and online discussions 5. Make money by completing offers and surveys 6. Make money by becoming an affiliate marketer or online auctions 7. Make money by gambling online 8. Various other photography and money making links are also all over the blog Hope you enjoy the experience on my photoblog
@
http://memyselfandmyslr.blogspot.com/

• Australia
11 Feb 07
These days I stick with myLot, as I find that if I concentrate here then I can make as much money from here in less time than I would from the other sites I used to go to. I think it is a matter of sorting out the priorities. Certainly there are some people who can have more than 1 site going at the same time but that isn't for me. What you should do is concentrate on one thing for a week and see how you go on that. If it makes money then perhaps just do 2 for a week, and see if the money is the same or better. However, I think when people try to do too many things at once, they end up worse off simply because they are trying to divide their time too far.

• United States
8 Feb 07
Queen, I belong to that one called Algoco or something like that but I just don't get it.....Netwinner, I've won $25.00 but haven't actually received the check yet.....Judy's Book, stopped doing the gift certificates for reviews......I don't like to do many of the surveys because they jam up my email with so much spam.......My Points Bonus Mail isn't too bad, the points add up pretty quicky - points to read mail This is where I have my problem, I never add the links so I don't have any referrals to any of the sites that I do! LOL I would be more than happy to learn of some easy ones!~Donna

• United States
8 Feb 07
I am on three different sites that me money. It's not a lot but it's some! I usually get $5-$30 checks.

•
4 Feb 07
My Favourite Two Sites http://intoffers.com/members/register.php?ref=mohamed87 http://www.makethatdollar.com/home.php?ref=mohamed87 1- honest admin 2- tons of offer you can join and earn alot from them also 3- new contest with high rates (reach 100$ for the first and 75$ for second) 4- Payout Through Egold or Paypal or check (MakeThatDollar) 5- Payment Proof -- http://img110.imageshack.us/img110/3013/proof91mq6.jpg http://img128.imageshack.us/img128/3312/1dr6.jpg http://img185.imageshack.us/img185/8153/mtdpaymenta1dw2.jpg First Check Payment Proof To be sure that the two sites pays and then register and if you have any problem with the two sites pm me

• United States
3 Feb 07
not sure of any more i find out my info from here. LOL

• United States
3 Feb 07
mysurvey inboxdollars testspin gozing I also sell things on ebay I earn points to redeem for gift cards at mypoints startsampling and I have a website where I sell products