Will my birds ever talk?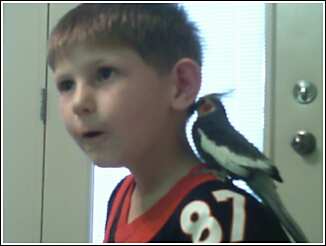 United States
4 responses

• United States
6 Feb 07
I was also told that if they whistle, they won't talk. I knew from having parakeets, that they won't learn to talk if they have eachother. Also, mirrors will keep them from talking.

• United States
6 Mar 07
Most female birds don't talk. I have several one cockatiel, one quaker, one cardinal, 2 robins, and a blue jay. My quaker, blue jay and cockatiel all talk and whistle. What you have to do is take them one at a time and go in a room that it is really quiet and repeat, repeat, and repeat what you want them to say. Also, if you go to your pet shop they also sell talking tapes where you can just play them over and over again.

• Etowah, Tennessee
28 Feb 07
Mine has never talked and he is about 5 years old. He hass one whistle that he does that I know means 'pretty bird' and I try continually to say this but he is so stubborn!! He is a little wild and does not like to come out of his cage and will only let you pet his head when HE wants it petted. I have only had him since July and I love him dearly. I recommend this type for a pet to anyone!

• United States
18 Feb 07
its often true, but not always of course. choose one bird to train at a time. take them into another room where they cant hear the others. and do your "talk training" in there. that way you have their full attention. keep the training sessions short. like 15minutes or so, couple times a day. it might take a while. and remember that just because a breed has a reputation as a good talker, doesnt mean that all of them will talk. whistling comes naturally to them and they can be inventive and elaborate at whim, unlike talking, which takes a lot of concentration on their part.