What if you lost your temper on your child?what do you do?

Philippines
4 responses

• United States
4 Feb 07
You're right, sometimes it is really hard not to get upset or impatient etc. I try very hard, as I'm sure most parents do, to reign in my temper if something is starting to bother me. Sometimes though, that simply doesn't do the trick. Usually I try and slow down whatever it is I was going to do. If I feel that the behaviour merits a spanking, I'll try and slow myself down so I'm not spanking too hard. If I'm feeling an urge to raise my voice I try to take a moment and think about what I was going to say and how. A lot of times I will just close my eyes for a few seconds and drop my shoulders and just force myself to calm down. But, as others have posted, it's also good to just walk away if you can. Anyway, if I do do something I think was overboard, I usually hold my son close to me and tell him that Momma was sorry she acted the way she did, it was not right and will he forgive me. Personally I think it's better not to try to explain your actions based on what they did, because what you did was not right no matter how they were acting. I think you should just say you were wrong and ask the child to forgive you.

• Philippines
4 Feb 07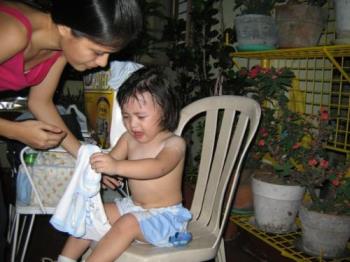 There are times when I scream at my son or even spank him when he gets to naughty. He would be really scared, his fear is very much evident through his eyes, I would leave him for a while to cool off then after a few minutes I hug him and explain what he did wrong.

• Canada
4 Feb 07
When I lost patience with my children , I always try to go back to them and explain why and to remind them that mommy loves them very much and that it was not their fault that mommy was just tired or not having a good day . Then I give them a kiss and a hug and tell them how sorry I am and always ask them if they will forgive me . It is not right to lose our patience with our children but sometimes just like everything in life we make a wrong decision but we should at least always remember to say we are sorry and to explain why we did what we did .

• United States
6 Apr 07
Well, the best thing for anyone to do is just walk away or tell the kid to go to their room. My daughter does things that make me mad all the time, but I just put her down on her crib and take a time out. Thankfully, I am not a violent person and I prefer to walk away then hurt anyone even my child.