The things people sell on eBay...

United States
February 4, 2007 10:45am CST
I own a small drop off store for people who want to sell things on Ebay. I charge a small commision. I cant beleive some of the things people bring in for me to sale. Birds nests, insects, muddy tires, old rusted car parts, ect. The amazing thing is they sell and sometimes for unbelievable money. You should see some of the things in my Ebay store for sale sometimes.
1 response

• United States
4 Feb 07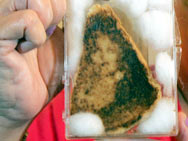 lol... that is crazy.. I have been wondering about how that works.. I would like to start selling stuff on ebay but would rather have someone else do it for me.. do they just accept anything or can you refuse? I wouldnt want to sell a muddy tire or bird nest lol.. that is crazy.. I always wondered how much they charge for the stuff and if the customer is able to check the staus of the auction as well as the person selling it for them.. I think its great that this type of thing started though.. but as far as the old rusted car parts, here we have scrap yards and people load up their trucks and trailers and fill it with scrap metals and old appliances and take them to the scrap yard and sell it to them by the pound.. thats pretty good money, we do it when its not winter time.. one weired thing I have heard of being on ebay is the grilled cheese sandwich that was supposed to look like it had the image of Jesus or the virgin mary on it or something.. that was funny..

• United States
4 Feb 07
Correction: if the customer is able to check the STATUS of the auction as well as the person selling it for them...oops