An Ode To My Incredible Dirt Devil!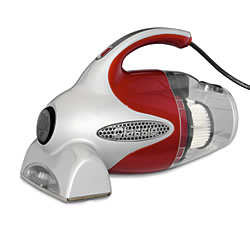 United States
February 5, 2007 9:47am CST
Dear Dirt Devil, I know, I abuse the hell out of you all the time and you never complain ... thank you for the years of wonderful service you have provided me. When I saw that myLot had added a section for 'products I use', I knew that I had to create a listing for you and all the other Dirt Devil products I own. When the Fruit Loops fly across the room or the guinea pigs poop in the corner, you are there to clean it up. When the garbage bag rips as I am taking it to the trash, you never complain when you have to suck up all the nasty stuff on the floor. In short, if men were this faithful and dedicated, divorice would be a thing of the past. But I have a confession to make. I've met someone else ... come on now, hear me out. It's your crazy cousin, The Scorpion Cordless Vac. Don't look at me like that, it's not like I'm getting rid of you ... but there are times when I need something that's cordless and well sweetie, you have a long cord, a very long and impressive cord ... but the Scorp can go places that you just can't. Anyone else out there think they'd be completely lost without their Dirt Devil? Have one that you think is the best? Well, here's the place to post your views on it!
4 responses

• Canada
5 Feb 07
LOL!!! Cute discussion. I don't have a dirt devil, I actually don't even know the brand of my vacumn cleaner but I would definitely be lost without it. I have very little carpet in my house, but with a cat and a dog that shed enough to make a pillow a day, the vacumn is my best friend. I find it much easier than sweeping as sweeping just seems to push the hair up and into the air as opposed to getting rid of it. Great topic!

• United States
5 Feb 07
I tried those Swiffer ones that you push around and they did nothing for the fur that flies on a regular basis. The Dirt Devil is awesome for doing carpeted steps because it is small and light weight but at the same time, super strong at sucking up dirt. Thanks for the comment :]

•
7 Feb 07
Aw what a lovely Ode to your Dirt Devil and such a sad ending! I don't own a Dirt Devil or a Scorpion Cordless Vac, although I do have a Black and Decker mini hand vacuum, that's been stuck in the cupboard for years! :-(

• United States
6 Apr 07
i love my dirt devil-it rocks for stairs-i hate carrying a canister vacuum up them. i had bought a knock-off called a "shark" it wasn't..too bad,i guess but not as powerful as the DD.

• United States
6 Apr 07
Although I do not have a handheld dirt devil, I am quite happy with my Dirt Devil Wide Glide. It does a great job of picking up everything that my kids, grandkids, and the pets throw at it. The reason I bought it though was my daughter's boyfriend. When they first got theirs, I had gone to their house and had to laugh because he was so impressed by how great it worked that he ran around the house showing off what a great vacuum it was. He sounded like a vacuum salesman. I still laugh when I picture how he looked that day.