Relationship changes a friendship?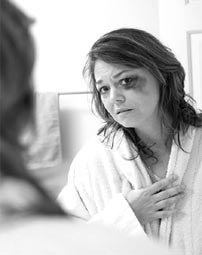 Malta
February 6, 2007 4:46am CST
Recently I am very worried about my friend, she has been dating someone for 2 months. We've been friends since we were in school so I know her quite well. I've realised that her character suddenly changed since she started going out with this guy. Ok I realise that she has to spend time with him and not so much with me anymore but does she have to lie about it? Is love so blind that she prefers to lose our friendship over her relationship with this guy, who I belive is violating her? Whenever I see her she always has a bruise on her face or hands and she always makes excuses for him, by saying that she fell or something. I pretend that I believe her because I know it will hurt her if I say something wrong about it. I believe he doesn't want her to have any contacts with her friends anymore. Is it really hard for her to leave him after just 2 months? Does she really love him? Or is she just scared and wants some help?
3 responses

• India
6 Feb 07
i think you should talk to your friend. you have been together for so long....and if she needs help, you should be there for her. some females find it hard to gat out of an abusive relationship out of fear or lack of confidence. i think you should try to get her to talk about it.

• India
6 Feb 07
It is prefectly true that friendship does get affected when a person is in a relationship. Because it depends totally on the person he/she is involved being but still POSSESSION is the factor which causes a person to back of from other relationships (like friends etc) to save the relationship with whom he/she is involved.

• Malta
6 Feb 07
If she is a really good friend you should first of all let her know about your suspicion. Especially if the bruises are visible. I had a friend with a similar story, where she wanted to go out with the guy for several months with no success. She remained with him for about a year but realised that there was no future for her with the guy. You should tell her that when coming to choose a boyfriend she must be very careful, and it is better alone than badly accompanied. Give her all your support and make sure she knows you are there whenever she needs you.