Jewel of Atlantis Computer Game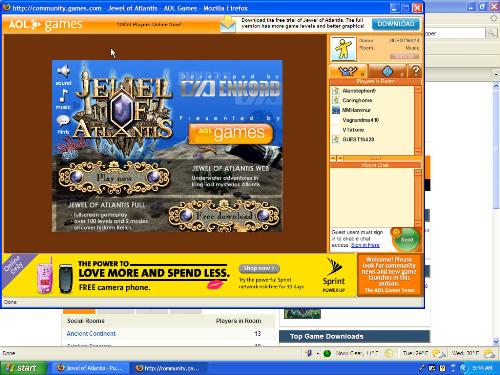 United States
February 6, 2007 4:52am CST
Has anyone heard of this game or has or is playing this game? I am so addicted to this game as my mom got me hooked on this as well as my stepson. It is very challenging and is found on the aol game website. I just purchased it and play it quite frequently. It is a puzzle game and has some similarities to Tetris but definitely not the same. Here is the link for anyone that is interested in trying this game. http://games.aol.com/play/jewel-of-atlantis
5 responses

• Canada
13 Mar 07
Uh Oh this is one game that I could become addicted to very easily. Ya had to provide the link didn't ya! lol. I am a word puzzle freak as well. I love Text Twist and play Bejewelled and I have Tetris on my cell phone to keep me from getting bored if I have to wait somewhere. Oh well the house work will keep! I have a new game to play.

• United States
13 Mar 07
I love this game a lot and my mom got me addicted to this game. She was playing it one time while I was visiting her and I got hooked on it. I like word puzzle games as well so it looks like we have something in common here. LOL I too have played Text Twist and Bejeweled. :-) Have fun playing this game.

• United States
20 Apr 07
I love games ..I spend much time on pogo..hoping to hit that jackpot one of these days; thanks for sharing the link Ken, will look into this some time thins weekend;)+

• United States
27 May 07
Is that why we don't see you so often on mylot, Ken..you are playing jewel of atlantis:)+

• Canada
4 Jul 07
Thank you for your games. That is a pretty games. I am playing it now.

• United States
6 Jun 07
Wow my friend... What a Great game this is. This is the first time I had ever played it. I got over 10,000 for a score which I thought was pretty good for my first time. Thanks for sharing this Game with me.

• United States
7 Jun 07
i am glad that you enjoyed this game and that you did so well on your first time. It sounds like you will do very well with this game. If you buy it, you will have a lot more puzzles to get through and much tougher ones. I have gotten addicted to this game.

• United States
20 Apr 07
Well, that sounds like my kind of a game!! I haven't heard of it before, but I will check it out. Thank you for the information.