Babies and animals is that ok?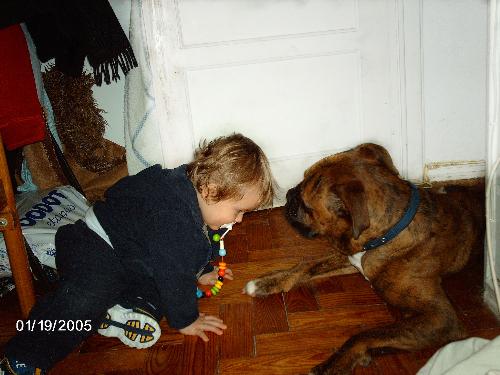 Portugal
February 7, 2007 8:00am CST
Since my baby has born (he's 2 yrs now) i've been having dogs - one at the time - and my mother is always putting me down because they play together, she says my child alergies and all the bad things are due to the dog. Do you think is true? My child love animals and i think is an add for him to have a dog's protection and companionship. What do you think about?
1 response

• United States
8 Feb 07
well i don't think that having a dog is bad for your son. his allergies could be caused from other things such as seasonal allergies, dust, mold, pollen etc. it could be your son has an allergy to your dog's pet dander. you won't know that unless you get it checked out from the doctor. it's natural for your son to have a good relationship with an animal. that way he can have respect for them and also love animals.

• Portugal
8 Feb 07
I always heard that its more liked to pass deseases from humans to domestic animals then the contrary, i'm always telling that to my mom, but she insists in her point of view :(. You're right, my son already love animals, he is crazy about them! Im always postponing my son's alergic tests, because he has to do it with nidles, but i think i wil have to do it one of this days. Thxs