How CUTE is my Chow KIMBER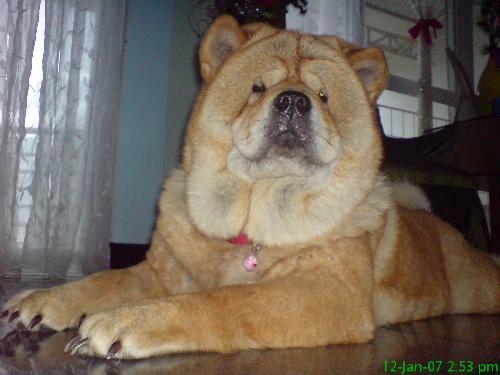 Philippines
February 7, 2007 9:10pm CST
I am so in love with this dog! She's very behaved, and sweet. She's a bit aloof to new faces but she's definitely a darling if you get to know her. I'd like to see your pets too!
6 responses

• Philippines
12 Aug 08
typical chows... if they are not aloof they are not chows hehhee i have 4 chows living with me =) i will post pics soon =) and yeah kimber is adorable so huggable =) i just noticed tho she has quite a long nails already hahhahaha well my 2 females dont't like to have their nails cut it's like they are telling me "Mommy dont cut my nails i want to have them nail polished" hahhahah my 2 male chows no problem in grooming hehehe =)


• Philippines
23 Jun 07
Your chow is cute and adorable. I also have 2 male chows and 1 female chow. The pictures are in my multiply. The name of our male chows are chooey and mao2x. Hehe. They are cream in color. They are good dogs and they do not bite people or strangers. Unfortunately, chooey is blind. That is why we bought him for a low price. But i love him. The name of our female chow is twinkie or twinkle. Either of the two. Hehe. She's moody when she is having her period. She tends to fight all the girl dogs in our house.


• Canada
23 Apr 07
I'm sure your dog is very sweet, but, I was attacked by a chow when I was a kid, and to this day, they still scare the beejeebers out of me. But, I still think they're cute, but, for me, at a distance.