mylot user believe in UFO? have you seen crop circle?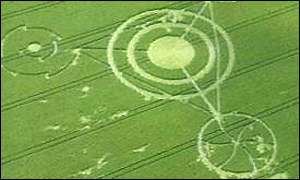 Italy
February 8, 2007 12:49pm CST
hi do you believe in UFO? have you never seen or do you have any experience with crop circle, or something upon the sky?
6 responses

• Indonesia
9 Feb 07
I believe that there are many other form of life beside of human being. For example, we know that ghosts or djinn are exist. My Buddhist friend told me that those forms had from lower vibration of our world, and alien forms had higher vibration than us. You know the scientific evidence that no human being can make such a vast crop circle within 5-10 minutes, or even one night. And also the heat signature that remain shows no human technology can produce that high heat without damaging all the crops' sections. But no, I never experience any crop circle.

• United States
8 Feb 07
i have not personally experienced anything like hat but im always wondering if such things exist. if not how do they make such things without being caught?

• Canada
18 Feb 07
I know about the crop circle. At first, I am very excited but then, I read that some scientiest have found the crop circle is hoax. It was developed by humans. I watched this theory in TV about years ago.

•
16 Feb 07
i believe the government knows a lot more than we. they hide things from us and keep these things secret! i think there is something out there. have u seen the documentary about roswell?