why girls wear clothes so tight?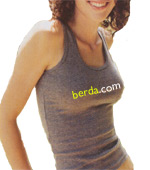 India
February 10, 2007 7:30am CST
I wonder why the girls wanna show off their figure/body by wearing tight jeans, tight tops, Low neck, low waist, hiphuggers, mini, belly open, cleavage showing clothes? Is it because they want all the guys to look at them or to make other girls jealous..?
4 responses

• United States
10 Feb 07
I am a firm believer in if you've got it, flaunt it. I dress to look good, accentuate my positive attributes, and it makes me feel good about myself. Having someone check me out is just an added bonus. I have no need to attract attention or make girls jealous, because I am a happily married mother of one. I just believe in looking my best when I so out.

• India
10 Feb 07
Well, thanks for responding first! But you said, you wanna look good..does mean COMPARATIVELY looking good?

• United States
11 Feb 07
No, it just means I want to feel good. I dress in a confident fashion. Does that make sense?

• India
11 Feb 07
So ultimately it be can conclude that, you will feel confident only when you dress up with less clothes..! Well it depends on personal interests..its your way..! Please excuse if i have crossed the limits to ask you something personal as i am a stranger.! sorry!

• United States
10 Feb 07
I don't wear tight clothing, never did. I think society objectifies women and many of them are stuck in their own mind trap that doing this is a good thing. I happen to prefer being liked for my mind and not my body.

• India
11 Feb 07
Yaa, thats a good thinking of your's! Infact the reponse like this is what i was expecting!


• India
11 Feb 07
Hey yuo know what? I have seen even big fatty aquard body shaped girls also wearing that kind of clothes! What you say for this?

• United States
10 Feb 07
I know what you mean it seems all the girls these days don't have enough clothes on. Even more they get offended when people stare at them! If you dont't want people to stare at you while you are half clothed then don't wear clothes like that!

• India
11 Feb 07
Absolutely... I have seen girls covering their cleavage part while someone looks.. If they feel odd by this.. then first of all why to show then why to cover..huh..!