What's your favorite animal?

United States
February 10, 2007 11:15am CST
I'd have to say horses and dogs.
6 responses

• India
10 Feb 07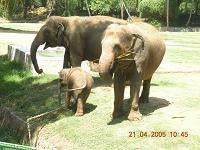 I love domesticated Indian and AFrican elephants. They are marvellous and interesting to watch. One individual cannot keep a elephant as a pet animal, because to maintain daily, one needs huge amount of money. There are famous temples in south India, and these temple authorities maintain 3 to 4 elephants.

• United States
10 Feb 07
Siberian Tigers and Lions in fact all big cats. Because they represent power,grace and majesty.


•
10 Feb 07
my favourite animal is a cat, they make me feel relaxed cause they are soooooo lazy!