cat language

United States
9 responses

• United States
10 Feb 07
LOL Yes I can. I have a simease cat and they are know for talking. She will just chitter chatter and look at me. I will talk back to her and she will just purr. I can tell when she wants me to pet her by the way she keeps rubbing against me and when she wants food she will start talking and walk up a few steps like she wants me to follow her to her feed dish. She is so funny.

• United States
10 Feb 07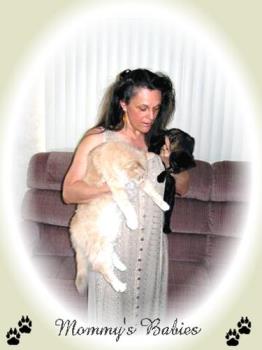 I had a Siamese lilac point 14 years ago. He was my love for 17 1/2 years. I still cry and miss him. I loved his talking. I have two cats now. Both saved for adoption. One is a cat cat, long hair beauty, and very quiet. But the little tortie must have Siamese in her, she is always chirping, purring, and making a lot of noise. This is them. Blessings, M&M

• Canada
12 Feb 07
I think I can understand Nicky pretty well. She lets me know she is the boss of the house and when I have made a mistake. When I make tuna sandwiches for my hubby I always pour the juice in her food dish the other day I forgot. What nerve. She followed me around for an hour making all kinds of noise. Boy was she telling me off. If she feels lonely she will rub against your leg and purr until your stop what you are doing and give her your full attention. If you lock her in a room by mistake she screams her head off then kind of gives you the cold shoulder but sticks close by. She is a delight.

• United States
11 Feb 07
Of course! After 40 years of owning them (or they me - LOL) I can tell you what they want. If Sassy wiggles her straight up, fluffy tail at me twice, it means the cat box is not up to her cleanliness standards. Nor will come rubbing against my face in my sleep to let me know he's cold and to open the covers so he can crawl in next to me. Tigger will rub himself and wrap his tale around my leg like a little monkey because he wants attention. Morgana will roll over and over on the floor begging for a belly rub. All four sitting in the middle of the kitchen floor around 8pm means they are expecting their dinner of one can of catfood everyday - and dont be late!

• United States
11 Feb 07
I do, my one cat will run when I get close to her and jump up on the couch and that means brush me she loves to be brushed she has long hair. Another one will follow me all through the house and in every room that means feed me. And last but not least she will sit in the kitchen when im cleaning up afer dinner and wont leave me and that means come on Im ready for bed she is the only one that sleeps with me. She wont let the other 2 come up on the bed she chases them off thats how protective of me she is.

• Canada
11 Feb 07
LOL, my cat makes it very well known what she wants by her body language! When she's hungry she won't stop going between our legs and then to her food dish until we feed her. And when she doesn't want us going near her, she'll flatten her ears and glare at us. She's got quite the personality, but she's a great cat.

• United States
11 Feb 07
I can understand my cats most of the time and they each have their own body language for different things. Silver, when he gets annoyed at something will start thumping his tail and the more annoyed, the harder and faster it goes. Magay will keep her tail up like a flagpole which seems to be that she is content with her life and just goes on her merry way. They all are the same when they get what I call the crazies, their pupils become very big and they do this dance with their feet and then it's off to the races. Those are just some of the examples because I could probably go on for a long time.

• Canada
10 Feb 07
I think you can tell when a cat is on a mission so to speak or if they are laid back and content. We have a black cat named Joey and whenever his tail goes up and forms a question mark it like a beacon for trouble. I think the tail is a question mark actually on a circuit from his brain warning the world that he is thinking up mishchief. "What should I get into next?" See the correlation?

• United States
10 Feb 07
Sometimes. If the tail is swishing, they are excited about something or even agitated. Both cats will meow when they don't want to be touched or when they want something like to be let into a room. It the cat is laying all curled up, they are trying to stay warm. If stretched out, they are cooling off. I am no expert, so I am only guessing.

• United States
10 Feb 07
i guess animals have their languages but we only understand their feelings through body movements