Do you consider Madonna hot at 48 years old?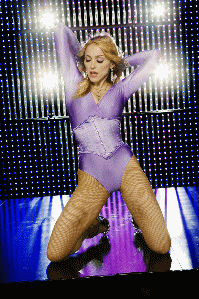 Romania
February 10, 2007 3:47pm CST
I think she's still hot, even if she made some surgical operations... or she didn't i don't know.. she is still beautiful and her music and videos still remind some people of the old days when madonna was a big star in the youth people music and i think she still is a big star in the music of this times!
7 responses


• United States
24 Aug 07
Considering she is going to be 50 this comming year, I would say that she is pretty hot.

• Romania
2 Mar 07
Madonna is the only recording artist to have a top-ten hit on the Billboard Hot 100 with at least one single from every album (Madonna to Confessions on a Dance Floor) that has had a single released. Madonna has achieved the unique feat of having had at least one single peak at every position in the top ten of Billboards Hot 100 chart. According to Billboard Magazine, Madonna is the Top Female Act of the 1980s. The magazine also declared her as the Second Top Act of the 1980s, behind Michael Jackson. Madonna holds the record for the most consecutive top-five hits (16) among female artists ("Lucky Star" to "Cherish"), and second only to Elvis Presley. Prior to Janet Jackson, she previously held the record for the most consecutive top-ten hits among female artists (17)("Borderline" to "Cherish"). In the first six months of 1985, Madonna had six separate hit singles on the Billboard Charts (and five videos in rotation at once on MTV). From 1985 - 2003, Madonna has received 25 Billboard awards and citations. SO IS HOT....

•
28 Feb 07
I would say I hope I look that good when I am her age but I already dont! She is a very sexy lady and I have been a big fan since day one. She has changed her look several times over the years but I dont ever remember her looking bad. She has toned it down in the last few years after getting married and having children but she is amazing looking and definately knows how to make the best of her appearance.

• Philippines
17 Feb 07
I don't consider her "hot." Madonna is more of a "cool" mid-age lady. She's the legend to beat amongst female singers. I grew up with Madonna songs... that's funny because I'm a guy. My fave song of hers when I was young was Cherish.

• United States
14 Feb 07
I think madonna will be amazing regardless of her age. She is super talented, and has continued to get better with age.