Self Tanning Lotion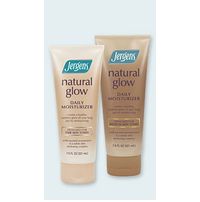 Canada
8 responses

• United States
12 Feb 07
I like the Jergens Natural Glow too. I have very light skin so I have to use the lighter of the two shades. It does look very natural and you can stop applying nightly when you get the look that you are after. My only complaint (and it holds true for all of the self-tanning lotions) is the odor! My husband and I both hate the odor! It reminds me of hair perming solution! I would love to find a self-tanner that didn't have that pecuilar odor!

• Canada
12 Feb 07
Reading this just made me laugh, my husband also hates the smell. I was using a different kind for awhile and he really hated it . It almost made him mad when I used it.Funny thing is when I am not using it and I come across someone else using I can smell them too. There was a girl at work one day and I knew she had it on I recognized the smell. But at first I thought she was wearing rancid perfume,

• Ireland
11 Feb 07
I use Johnson's Holiday Sun. It doesn't streak or come off on clothes either. I use it all the year round as it keeps my skin moist, and it protects against dry skin in Winter. It doesn't darken the skin too much so it doesn't look artificial.

• United States
11 Feb 07
I've actually never tried it. I just don't trust it for some reason. Maybe if enough people respond to this post, and I see how many people actually use the stuff I might try it, now that I have to stay out of the sun because of my new medication. This way I won't look like a ghost all year, right?


•
13 Feb 07
I use Johnson's Holiday Skin. It's a moisturiser, with hints of self tan in it. I like this, as it doesn't streak, it doesn't make me go orange, and it's easy to put on. I only use it every so often, as it does build up the tan, so if you use it too much, it can get to be a bit of overkill.

•
12 Feb 07
I would recommend Johnsons Holiday Skin. Its a body lotion containing fake tan. You apply a thin layer every night and it builds up into a natural tan. It also has the benefits of making your skin softer and firmer. If you want something more instant I would recommend Sally Hansen sprays. I mix it with a bit of body lotion so its easier to blend and to avoid streaks. If you have a lot of money to spend St. Tropez is great and the one most used by professionals.

• Hong Kong
12 Feb 07
My wife knows this kind of commodities. She frequently goes shopping after working. When people ask her opinions of certain products, she can always details which one is best and how good is its quality. Well, on the contrary, this is my weakness. I like to use the items she selected for me, I never bother to listen to her comments on the famous brand name products.

• United States
11 Feb 07
I use Ban de Soleil. I have an olive complextion, so I use the dark shade, but it really is the best that I have tried, and I have very sensitive skin and can even use it on my face.