The Latest King Kong Movie..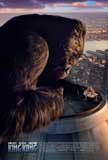 United States
February 11, 2007 3:40pm CST
I don't expect many responses to this topic but I have to ask if anyone is like me? This is the third version I have seen and although I know the ending I had to watch it again. It was very well made but at the ned I cried like a baby I always do. Can't they make a new version where King Kong goes back to his home? The poor animal (I know he's not real) did ask to come to New York.
7 responses


• United States
2 Mar 07
As much as I like the two key remakes of King Kong (1976 with Jessica Lange and the 2005)...the original (as cheesie as it is in comparison to todays movies but it was made in 1933 so um yea..whatdya expect I guess LOL) is my ABSOLUTE favourite! I will admit though that this latest remake was really well done without a doubt and I love the cast they had for it too....

• Ireland
12 Feb 07
My sentiments exactly. I wish all movies had a happy ending. I never watch a sad movie before I go to bed at night, because I am trying to rearrange the plot in the movie so that it will have a happy ending and that keeps me awake for half the night.

• United States
12 Feb 07
I feel how you feel. I wish it was a happy ending.


•
11 Feb 07
LOL you sound like me. In fact I have not seen the newer one because I know he will die and I can't stand it. My little brother tried to trick me and almost had me beleiving he lives at the end. Jerk, I was so ready to go see it, too.

• Canada
11 Feb 07
The one that Lord of the Rings director made was awesome. I think that's the latest version of this movie. The special effects blends very well with the actual surrounding and the actors played quite well too.