Do u know bout rasleela?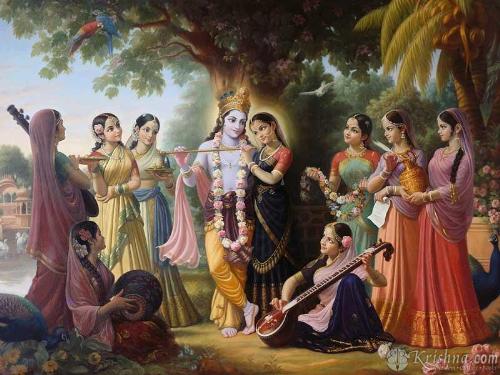 India
4 responses

• India
13 Feb 07

RASLEELA is a festival in india where lord krishna (deity)dances and makes merry (in a modern sense enjoys flirting) with his gopis (girl friends). this is celebrated in grandeur in various parts of india in the form of dramas and merriment (leela). for me, it has some other significance, when i see my grandma and mom performing puja and offering bhog ( ritualistic sacred food). and i hovering around with friends and family playing, enacting, flirting and enjoying all of it. thank you

• India
16 Feb 07
thanx so much for the best response thing. you just made my day.

• India
16 Feb 07
Dear I really liked ur response. So i marked it d BEST. I really like n appreciate ur discussions.

• India
16 Feb 07
Ya i know bout Rasleela. It is a dance when Krishnaji is surrounded by Radha n Gopis. Its a dance which is very renouned among Indians.

• India
13 Feb 07
yup rasleela meant the celebration of love, where krishna played the bansuri and made the enviorment fill with love and the gopis danced to his tunes and with effect of the bansuri tunes,it was expression of love at best, and then krishna too joined them in dance

• India
12 Feb 07
I know about rasleela. It is performed during festivals. It is the drama type celebration in which people play the roles of Shri Krishna, Radha, and other characters of Krishna's family and it is shown generally to make lord Krishna happy. It generally consists of plays depicting his childhood. I have seen it many times. It is played during the janmashtami here in india. Have a nice day.