I need feedback on my receipes

United States
February 12, 2007 9:40pm CST
My dear friends, thanks for reading and replying to my receipe posts. I will be doing more for you. But, I want you to email me or post when you try it, and let me know if you liked it or not. Okay? Also, I am trying as hard as humanly possible to reply back, but I am reading everything, and will be rating. Bless y'all. You are super friends to me.
7 responses

• United States
13 Feb 07
I have also saved a lot of your recipes to notepad and printed them out. As I try them, I will let you know how they turned out! I'm not much of a cook, so I go for the easier ones! Do you have any good recipes for using chicken legs?

• Ireland
13 Feb 07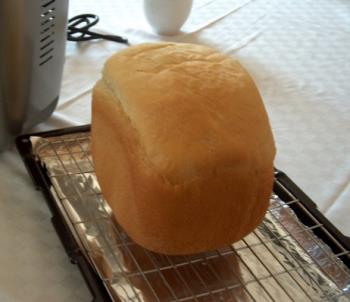 I got up early this morning and baked the Golden Egg bread for bread machines. It is still hot and smells delicious. As promised here is a photo of the result. I can't wait for it to cool so that I can get my teeth into it. Thanks a million for all the useful recipes.

• United States
13 Feb 07
Great pic, thanks. Hope you enjoy it.

• Canada
13 Feb 07
I think I already gave you feed back on the hot appetizer you posted the other day. It was a meal for the two of us as we watched out movie. I am making the mac and cheese twist tomorrow and plan on the sweet potato balls on Sunday. We're having company and I am looking forward to serving these. I will keep you posted!!!

• United States
13 Feb 07
Wonderful honey, thank you. Blessings, M&M

• Spain
13 Feb 07
I will give you feedback. I copied a lot of your receipes and as soon as I can get my husband out of the kitchen, I will try them out. For the last few days he´s been cooking in the morning what we´re going to eat for lunch and dinner, so we´ve been eating what he´s prepared (very good cook). I´ve already written down the ingredients of some of your receipes on the shopping list. Either me or him (if I´m still banned from the kitchen) will give them a try. You´re a great friend too. Bless you and have a nice day.

• United States
13 Feb 07
Sure thing, understand you activities. Am not sure when I will be using some of them, they are on notepad and need to print them out. Then need to shop for some of the ingredients so it may take some time. I am hoping to see more from you and that others give you more prompt feedback til I can. Appreciate the friendship and hoping you take care!!


• Canada
13 Feb 07
Okay!!!I made a double batch of the Mac and Cheese Twist for lunch today. I knew 2 of my sons were comming so I needed extra. It was INHALED!!! One of my sons asked why I never made it while they were at home!! Of the 2 that I made there is barely enough for dinner tonight!! PS I give the bacon bits the thumbs up.