Right or wrong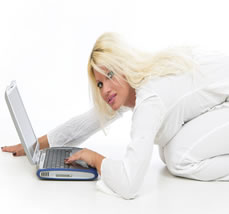 Canada
5 responses

• United States
14 Feb 07
Rather than tracking, I think its a lot better just to install filters that are password protected. That way kids wouldn't be able to go to certain websites but you still would. I don't think that tracking exactly what anyone is doing is ever a good idea. There's no reason to spy on your spouse/boyfriend/girlfriend and if you do than obviously there is no trust in the relationship. And spying on a employee is going too far, if they allow access to different things at work than obviously people will take advantage of that. But if they block all but certain websites, like they do at my work, then there is no way that anyone could violate that. And for your children, tracking everything they do is a little like reading their diary, just not something that is very acceptable.

• Canada
16 Feb 07
I full understand what you are saying, and you have every right to feel that way. But when it comes to protecting my children, I will track their online activity and read their diary if they kept one. As long as they are under my roof, they have no say. I realize this sounds harsh but it's a harsh world out there and I guess I've seen and heard more things than I really care to think about concerning children. 1 more thing, I kind of purposely stayed away placing filters on my computer because I'm kind of curious I guess to see what they try and access. So far they've been really good and I'm thankful for that. Thank you for your thoughts.

• United States
13 Mar 07
well not neccessary if not required ..in case if you smell something wrong then you can do that ..i think it depends on the situation ...i would say if everything is fine ..lets not interfere in anyboby freedom ..but as i said ..if u are suspicious in there movement ..you can try that

• United States
20 Feb 07
Thats a tricky question there my firned...yes I would do that for my kids with all the scary stuff on the internet that kids can find and see ... and I could see some companies puting this software on their computers at work as some employees aren't working at work ...lol and then we have the scares of viruses being downloaded so that might stop some of that happening...there are alot of good that can come form using this software ...but then I think we would all feel like we were being watched all the time ... but for the most part I think that it would be mostly for the good of all ... as for just to use to track your boyfriend or girlfriend if you feel like you need to do that then why have them as a boyfriend or girlfriend ...find someone you can trust ...DUH ...lol

• Canada
13 Feb 07
I wouldn't do it for my spouse and I haven't got any employee's.. lol.. just me. But i do keep a close eye on what my children do on-line. Just to keep them a bit safer. My son surfs at night on the weekends after I go to bed. I trust him but I still go through the history to see where he has been. It's not so much him I'm worried about as the kind of people he will be interacting with on-line.

• Canada
16 Feb 07
Unfortunately we don't know who our children chat with online because predetors maskerade themselves as someone they are not. Thanks for commenting.

• United States
13 Feb 07
I was totally against this. I think that spying on your spouse or kids is horrible, but then again, my husband is a network administrator for the school district and he tells me alot of the things that kids, my own kids' ages, are looking at. They try accessing sites that are not suitable for kids, or adults. We have the netnanny installed, and we do history searches to see where they have been, but to this day, we have not had to trace their every step. If we guide our children, in God's way, they will have that knowledge of right and wrong. We need to remember to pray for our children.(Our spouses,too!) It's vital.

• Canada
13 Feb 07
Yes you are correct. I heard this debate on a radio show and because I sell this kind of software as a side business, I wonder how mylot particapants felt about this issue. Thanks for your response.