How will you feel if ur pet dog or cat lost or dies???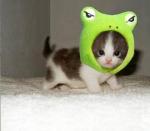 India
February 14, 2007 3:34am CST
I have a cat which i loves very much! one day some wild rats are spoling my clothes and other things in our house and my mom kept food which contains poison for that wild rats.And that is the last day of my sweet cat because my...my cat died by eating that poison along wiht that rats!!And share with me if any situation like this happens to you or to ypur friends....
No responses