Perfect Valentines Sun Rise!

United States
February 14, 2007 9:29am CST
I just thought I would share this beautifull sunrise with all of you. I just took this a few minuets ago and I thought it was the perfect colors for this wonderfull valentines day! Does anyone else get wonderfull sunrises, sunsets? Plaese share your pictures and thoughts.
8 responses

• Canada
14 Feb 07
i think that sunrise is absolutely gorgeous. . .thank you very much for sharing it . . .stuff like that always lifts my spirits

• United States
14 Feb 07
Mine too ! I am glad that you enjoyed it ! Have a wonderfull valentines day !


• United States
14 Feb 07
Thank you, happy Valentines Day !


• United States
14 Feb 07
Its such a beautifull wonder isnt it ?


• United States
16 Feb 07
I am not sure how o post it to a response but if you have it in your profile I will have a look.


•
15 Feb 07
Wow what a wonderful sunrise - I didn't get to see the sunrise yesterday morning as was still fast asleep! We get some stunning sunsets and sunrises where we are and with the back drop of the river it looks wonderful - I haven't got a photo to show you but the next time I see one I'll have to take a photo and post it!


• United States
15 Feb 07
I hope you enjoyed it as much as I did !

• United States
14 Feb 07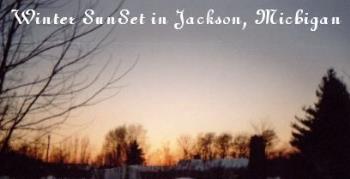 This is a beautiful sunrise. Here in Michigan we have specatular sunrises and sunset but I don't have many pictures right now - most times I'm too busy enjoying to think of grabbing the camera. Also need to get digital camera working again. This picture is one my son took a few years ago - sunset.

• United States
14 Feb 07
Thanks for the photo, its so pretty. The sun can be such a marvelous thing.