If You Won Lottery Money or Scratch OFF Money Would You give

United States
February 15, 2007 10:00am CST
some to the person that sold you the ticket. I am talking a large amount of money. If you would give the person some money how much would you give them if the scratch off ticket was for 20,000 twenty thousand. I would . Im not sure how much. The reason I am asking is because a lady I work with won 20,000 and did not give the person one red cent. I think she should have and want to know what you think.
6 responses

•
15 Feb 07
I don't think I would give anything to the person who sold me the ticket. I would give it to my family and friends as I think they help me more financially when I need it and give me support.

• United States
15 Feb 07
It's customary to give a gratuity to the person who sold the ticket...CHEAPSKATE!!!!

• United States
16 Feb 07
Well not all people feel like doing that . I would also give them some money but looking at this discussion I think that we are maybe in the minority. But that doesnt mean they are wrong. That is just the way they feel

• United States
23 Feb 07
The CHEAPSKATES are wrong.

• United States
15 Feb 07
This is a tough one. I would most definately give money to my family. To my friends, I am not so sure. I would only give it to my closest of friends as they are always there for me. I would definately give money to charity and the rest I would put aside until I need it. I really do not think it is logical to win a ton of money and then completely change your lifestyle.

• United States
15 Feb 07
another CHEAPSKATE!!!! These cashiers make probably minimum wage. What would it hurt to give a token to them!!! I can't believe you people! I would've given at least $100. It is a gift to you-money you didn't have...prior... Hear the little chickies? cheep cheap cheep cheap KARMA "What goes around comes around...."

• United States
16 Feb 07
The question wasnt would you give it to your close friend. It was would you give the person that sold you the ticket? Has nothing to do with changing your life style. It isnt the lottery But thank you anyway for taking the time to comment.

• United States
15 Feb 07
I think I would give the seller something, especially on a scratch off since I would know who the person was. Let's see, you win 20K, you get about 10K, pay off the credit card , pay the rest on my home equity loan. 20K sounds like a lot, but is not enough to make a real difference, at least in my life at this point, my savings are down to nothing, I am living on my home equity load and seeing if I can dip into my retirement plan while I wait for a paycheck to come in so I can see how much OT I will have to work to cover my bills. HHMM. 20 K would help, would be nice not to have that one credit card payment.

• United States
15 Feb 07
Thank you for responding. It would be more then you had though. I would pay off some bills too. Aint it fun to dream about it though.

• United States
15 Feb 07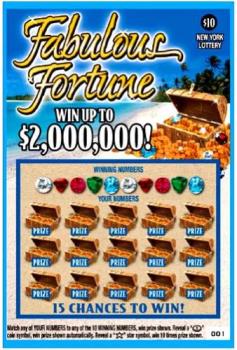 You aren't obligated to do this but if I did, I would give the person that sold me the ticket something. When our lottery was up to 340 million I joked around with the girl that sold me a ticket and said that if I won, I would buy her a new house. Of course she was rooting for me, needless to say, I didn't win LOL. If it's a small amount like $20.00 then tipping isn't something I'd consider, when I won $100.00 on a scratchie, I popped over to McDonald's and got her a salad and hamburger meal. She started telling me some stories about people that played huge amounts of money a day (and these were people that really couldn't afford it) and when they would hit a number or win something, they wouldn't give her anything. Your co-worker won $20,000.00, how hard would it have been to slip $100.00 in an envelope or get the seller a gift card. I believe in karma, what comes around goes around. Those are usually the people that you read about winning large sums of money then blowing it all and expecting people to feel sorry for them.

• United States
15 Feb 07
I feel exactly the same way as you do about this. I cannot believe that she did not give her a red cent. But as you can see her from the responses so far , it looks like most people wouldnt have. The lady at the store said it happens all the time that all people are not as kind hearted as some. I believe that if she sold me a ticket she gave me good luck in a way. Thanks for your response.

• India
15 Feb 07
If, I will win a lottery tecket or scratch card ,I will first of all purchasing clothes for my mother and grand mother,and after that I will go to temple to worship of the God. And than I will distribute some clothes and foods in all the poor and begger person. I will distribute Medicine in Poor pentiont, and try to keep constration of them.

• United States
16 Feb 07
Ok So I guess this is another no. Thank you for taking the time to respond to my question with your honest answer.

• United States
23 Feb 07
I would give something to the person who sold me the ticket. I'm not sure how much maybe like ten percent, so about 200 dollars. THere is a guy that comes into my work and gives the girls some money if he wins.