The six unhealthiest foods to avoid at all costs!!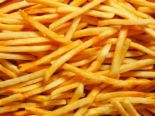 United States
February 15, 2007 10:10am CST
I just read on qualityhealth.com that these were the top unhealthiest foods.... 1.SODA - An average can of soda has 10 teaspoons of sugar, 150 calories, 30 to 55 mg of caffeine, plus artificial food colors and sulphites. Diet sodas contain artificial sweetners, which are even more unhealthy, and have been linked to cancer. 2.POTATOE CHIPS AND FRENCH FRIES - These popular snack foods contain acrylamide, a know cancer-causing agent that is formed when foods are baked or fried at high temperatures. They're also full of trans fats, which have been linked to heart disease, diabetes, and stroke. 3.DOUGHNUTS - Break a doughnut down, and you'll find nothing more than refined sugar and flour, artificial flavors, and partially hydrogenated oil that is loaded with trans fat. A true heart attack on a plate, doughnuts have no redeeming qualities whatsoever. 4.COFFEE CAKE AND OTHER BAKED GOODS - These foods almost always contain high amounts of trans fats as well as corn syrup, preservatives, and artificial flavors and colors. In fact, not only are these foods often made with hydrogenated oils, but they're usually fried in them too. True triggers for diabetes, cancer and heart disease! 5.LUNCHEON MEATS/HOT DOGS - Processed meats like these contain a cancer-causing ingredient known as sodium nitrite. 6.CANNED SOUP - Most canned soups have high levels of trans fats, sodium, and artificial preservatives. Just one cup can contain almost 1,000 milligrams of salt, nearly half of the recommended daily guidelines. This is a blood pressure nightmare! So I had no idea! Just wanted to share with you all. I eat almost everything on here and love them! Kind of scares me now but I will be more cautious now when I want to put one of those things in my mouth, lol.
4 responses

• Murfreesboro, Tennessee
15 Feb 07
Well, I'm gonna die. *laughs* Actually, I don't eat all of this stuff anymore, because I have to watch my sodium. However, soda is my favorite vice. I don't really like diet soda (just as well according to this) and I just can't seem to live without my pop. Especially while eating certain foods. Haha one can of soup has more sodium in it than my doctor wants me to eat in a day. And I can make homemade soup with barely any sodium at all. Go cooking!

• United States
15 Feb 07
Lol... I agree! Go cooking, I'm sure we'll be okay cheating and having one of those things on that list once in awhile. Thanks for responding.

•
15 Feb 07
Thank you for the information , I always make my own soup but I am on a healthy food kick right now and it is good to know the good and the bad , There is no good me going a walk or on my exercise bike the n eating all the things you have quoted . xx

• United States
15 Feb 07
Your welcome. I also try to make my own soups so much healthier and better. That's crazy, how much is in just one can of soup! Thankyou for responding.

• United States
15 Feb 07
Every one of those items on your list are my real weak spots, especially soda and potato chips. Why is it that all the stuff that is the worst for you tastes the best?

• United States
15 Feb 07
Oh I know, why do they have to taste so good but be so bad! Thanks for your response.