complete this,when i was a kid i'd always...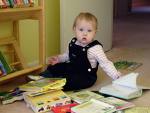 Philippines
2 responses

• United States
16 Feb 07
When I was a kid I'd always be reading books. My Mom was great and took me to the library and let me bring home stacks of books. I could read and re read alot of books. Remember school too, they never had the libraries that they do now.

• Philippines
19 Feb 07
when i wasa kid,i used to readsweet valley highandthebaby sitters' club.i agreewith you. with internet,kids nowadays have forgotten to read books. however, i see to it that my kids will beexposedto reading.we always have our reading time every night.we would read fairytales not to put them to sleep but for them to appreciate the story.

• United States
17 Feb 07
I would read books, draw pictures on my wall, challenge others to a run. I would have friends over to swim in the pool, and I play games like breath of fire. I'd do chores alot. But the good'ol days are long gone. Lol-fun being a kid, no one chided you if you didn't no something.