what is your favorite cake?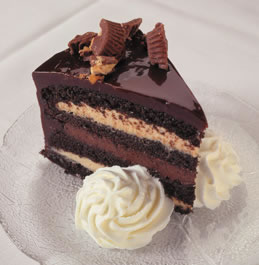 February 15, 2007 9:46pm CST
my is chocolate.... mmmm chocolate cake. whats your favorite cake?
5 responses

• Malaysia
3 Apr 07
Ooo..Mine too. My favorite cake happens to be Chocolate cake too. In fact, all chocolate-based cakes are my favorite. I just love Chocolate Mud cake and whenever i feel like pampering myself or when i am up to any celebration, i will go to TGIF to indulge myself with this cake. Though the price is a little bit expensive compared to others, i do not mind spending a little bit since i know they have never compromised with the taste. On top of that, they also give free chocolate mud cake when it's the customer's birthday or anniversary. I also always look forward to go to functions at hotels especially hi-tea because i get to eat varieties of cakes. Even at dinner or lunch buffets, i will go to the desert section first to check out their cakes. I like other cake flavors too such as fruit cakes, mocha, cheese and carrot cake.

• Malaysia
17 Mar 07
Though i like eating many types of cakes, my favorites are blueberry cake and blueberry cheese cake. I am not fussy when it comes to the flavors and type of cakes as i enjoy eating almost all of them. Among others would be plain cheese cake, carrot cake and chocolate cake. I usually do not wait for special occasions only to eat cakes. I always go to my favorite place which is the Coffee Bean and Starbucks, not because of their coffee but because of their delicious cakes. They make marvelous cakes. Even though I like eating cakes, I do not know how to bake a cake. Therefore i only buy them. All i know is cakes are yummy and i really enjoy eating them.

• Philippines
21 Feb 07
sansrival is my fav cake and when its christmas fruit cake is what i eat.... cakes are fatty foods but cant resist it


• India
19 Feb 07
hi noriko. likewise any cake is good and yummy. the best i liked is the pineapple cake with lots of cream.