Have you seen the film "The holiday" with Cameron Diaz and Kate Winslet?

Italy
February 16, 2007 3:03am CST
Hi to all...Have you seen the film with Cameron Diaz, Jude Law, Kate Winslet and Jack Black? Here in Italy it is entitled "L'amore non va in vacanza? (that it is...love doens't go on holiday) but I think that in English countries it was entitled The holiday.... I went to the cinema yesterday and watched it and I found it very amusing...it was so funny, and light, and romantic...it makes people laugh...it makes people dream because it is a happy ending film..but if you want you can also think about the new kind of loneliness we can experience in modern time. What do you think about this film?
9 responses

• Indonesia
16 Feb 07
It's a good movie, in all honesty. Kate Winslet plays very good, Cameron Diaz just perfect. Jude Law fits the role perfectly. I almost think that he didn't have to act, for in a real life, the magz said he's a playboy, anyway. lol Overall, I like the idea how they potray the contradiction between the UK and the States. Like the road in the States are wide, houses are bigs and in the UK, they called 'character' for those old houses, and the road are so tiny petite (i.e narrow). And the idea of 'exchange house' is apparently true in real life. The movie probably inspired by that idea.

• Italy
16 Feb 07
yes, you'r right it is said that the director got the idea of the movie after reading about house exchange...I have myself thought about this sometimes...but I am afraid of someone damaging my little tiny home and I cannot even imagine a stranger using my own things...what do you think?

• Indonesia
16 Feb 07
Yes true, The scary part of this so called 'exchange house' is knowing that stranger would be in your house and then who knows what might happen after that. lol But they said, sometimes because it's being arrange by an agent (not privately/individually); it's safer. But still for me, .. hm.. I don't know if I have that guts to do the 'exchange house'. Who knows what the other party might think of me seeing and living in my house the whole 2 weeks. hahhaaha..

• United States
17 Feb 07
I didn't see the movie yet, but I wouldn't mind house exchange. Not everything is bigger in States. New York apartments are tiny. :)


• Philippines
28 May 07
Yes, i've sen the movie and it was cool. In real life, there are really people who aren't contented of things coming into their lives, and there are people who finds love in just a wink of an eye, and there are also people who loves so much and being used. Only to realize that the guy they are loving much has another and they act so insensitive.

• Italy
28 May 07
unfortunately when we love we can be such a fool and do such silly things that we can be ashamed of ourselves when we stop loving...but when we love we are never rational..so i think we must be only lucky and find a good guy or we are condamned to suffer..anyway it is interesting thinking that we can meet our love just where we never thought it possible!!!

• United States
28 May 07
I loved this movie! We just rented it for the first time this weekend. What a wonderful story! So sweet and a wonderful ending.

• Israel
11 Apr 07
I think that it's a great movie, and I love the script of it. To think that there are some people that exchange houses, and live in a house and in a place that they have never been before if quite funny. I don't know if I would do such thing, but it does looks fun on the movie when the two exchanged houses, and evenutaly became friends. Deffinetyly a great movie!

• Ireland
9 Apr 07
No, but we are on Easter break and I am looking for a few good films to watch in the evening as a family. I like all three of the actors so will look into it. Thank you!


• United States
20 Mar 07
I just watched this movie yesterday. It was really great! I enjoyed it a lot! I liked everything about it. Love stories, cute kids, unlikely main characters...neat concept of running away from life and finding a better one! A dream scenario! And a happy ending to boot! Really great. Loved both houses...one rich and fun, one charming and rustic...really didn't see how they were going to make the ending turn out so well. And the one cuss word in the movie was so well written, and so well played...I laughed out loud...it fit into the scene so perfectly! A really great movie! I'd buy this one!

• United States
22 Feb 07
This is one of the best movies I was able to watch for the last two years. Thank you for great recommendation. Yes, it was funny, romantic and very energizing. It shows what life is about.

• Greece
18 Feb 07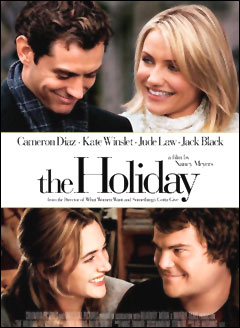 I have long time I didn't go to cinema.I watch a lot of films because I collect movies but only after they come to DVD shops. I read at my country movie sites that was a nice romantic film but nothing more.Now I need wait little more for I can watch the film,after all I like the happy ending films.I hope both we will be still here for I'll be back when I watch it.

• Italy
18 Feb 07
I do hope we can discuss about this film again after you see it...I like going to cinema very much and I go to the cinema every week if I can...the fact is that I like the big screen and the peculiar atmosphere cinema can create... I hope you can go to the cinema again or anyway enjoy your film at home with people you love...this is a very nice film and I am sure you'll have a good time watching it...