Have you had some hellish experience on riding a taxi?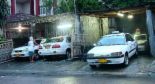 Philippines
February 16, 2007 10:13am CST
My foreign friends often complain about ride taxi drivers in our city. In fact one of my friends quoted "Philippines is a paradise but it has a lot of monsters who drives taxi." The taxi driver asks her a double fee and told her that his meter is not working. She wants to stop but the driver kept driving. I also have lots of encounter with rude taxi drivers.Although there are some taxi who are good but most of them are the worst of all worsts.
No responses