Favorite Chili Recipe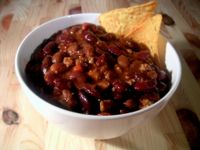 Canada
February 16, 2007 11:06am CST
I made Chili last night and its in my slow cooker now cooking up for tonight. It got me thinking though that I never make chili the same way twice. I am just wondering what your favorite chili recipes are. The one I made last night: One pound beef one can of baked beans in tomato sauce one can of red kidney beans one can of black beans one can of zesty tomato sauce some frozen prechopped onions (ok so I am lazy and pay the extra for frozen prechopped onions) a generous amount of chili powder a couple dabs of texas fire sauce for that added kick worsteshire(sp?) sauce half a package of onion soup mix half a green peper a generous amount of chopped fresh mushrooms Brown the beef with a generous amount of chili powder and worsteshire sauce along with the onions. To me this is key to put the chili powder, onions, onion soup mix, and wosteshire sauce in with the beef, this allows the flavour to cook into the beef. Once the beef is mixed put all the rest of the ingredients into the crock pot and slow cook for a minimum of eight hours.
6 responses


• United States
20 Feb 07
Lori's LowFat Texas Chili Recipe 1 pound ground turkey 1 onion, shopped or 2 tbl spoons instant minced onion 1/2 teaspoon of garlic powder 1 to 1-1/2 tsp chili powder 2-1/1 tsp ground cumin 1 (28 oz) can crushed tomatoes 1 (6 oz) can tomato paste (you can add beans at this point, although I omit them) ** 1 (30 oz can chili beans Brown turkey in onion over medium-high heat, stirring to break up meat, until lightly browned, 5 to 10 minutes. Stir in all remaining ingredients. Heat to boiling. Reduce heat to medium-low and simmer, uncovered for 10 to 15 minutes. I serve this over corn bread with cheese sprinkled on top. This is not only tasty but very low fat and you can't tell that you use turkey meat from the tomato taste.

• Canada
20 Feb 07
Cumin, now there's something I haven't added to Chili before. I rarely have any around, but now that you point it out I may have to get some. This is looks like a nice quick chili, but I am a big believer that Chili needs to be slow cooked for as long as possible to mingle the flavours as much as possible. The last chili I made I cooked it for 7 hours on the low setting of my crock pot.

• United States
20 Feb 07
This is a fast recipe, hence the reason for using crushed tomatoes and tomato paste you don't need to cook it long, although you can, it taste just as good as when you cook it fast like the recipe calls for.

• United States
19 Feb 07
Mine is pretty simple but I use deer meat instead of ground meat. It's not something that everyone will eat, they just can't get over the fact that I'd go out and kill something. Uhh, hello, do you think the cows just line up and fall over LOL 2 cans of Kidney Beans 2 pounds venison (deer meat) fresh stewed and drained tomatoes chopped onions Grammie's secret chili powder For smaller amounts I use a crock pot and let it simmer all day; I don't add green peppers as the taste of them make me gag, hey, at least I am honest!

•
23 Feb 07
I have made chilli before e few times, I usually just make it up as I go along. However, last time I made it I used a recipe, I cant rememebr exactly what was in it but one thing was to slice some limes and squeeze them over it at the end which was nice. I also had it with guacomole, salsa and tacos

• United States
20 Feb 07
I also make my chilli with venison whenever it's available. It gives it that very distinct taste. Otherwise, I use ground beef, a couple cans of beans, tomatoe juice, tomatoes, ect...all the usual stuff but I also add a can of corn. Gives it some color!

• United States
9 Mar 07
Ooh that sounds yummy! I make chili but it is very similar each time. I basically brown some meat. Add in LOADS of cooked dried beans (I usually mix them for different textures). Chopped onion and garlic. Chili seasoning. Tomato sauce. Then I may vary things here and there but I have no set recipe and don't even measure. I rarely make it in my slow cooker but I should. Hhhhmmmm maybe I will make chili for dinner tonight!