Boom Boom BOOM LIASON!---SPOILER ALERT!!!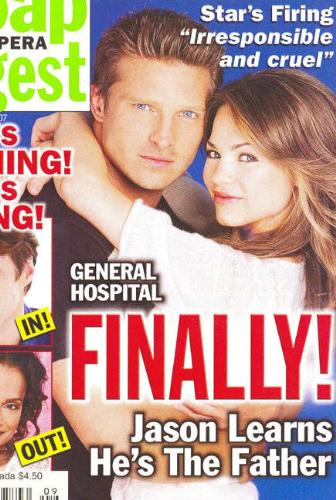 Canada
February 16, 2007 1:20pm CST
Finally the day I have waited so long for. The upcoming Liason scenes are going to be FANTASTC! I hear that there will be 3 days of Jason and Elizabeth trapped in an elevator after the explosion at the Metro Court. The elevator will fall to the bottom and they will be presumed dead. In actuality, we will get at least 3 days of heart wrenching honesty from both Jason and Elizabeth. She will tell him about the baby, and I love you's will be exchanged. However in true soap style---can you just hear a faint Luke n' Laura cry in the distance??? Mmm hmmm---as real life catches up to them, they will head back to their significant others and Jason will make the ultimate sacrifice---not claiming HIS baby so we don't hurt Unlucky and Spammy of course. But it is so wonderful that when the truth does come out (and you know it will sooner or later)Family Liaison will finally be here to stay. Because of love AND family (baby). The only unfortunate thing I can say about this is that poor Alan will die without knowing he has a greandchild on the way. How sad is that?
2 responses

• United States
17 Feb 07
I've read a lot of that too. I just don't like Elizabeth. She's too goody-two-shoes, holier-than-thou for me. Lulu right now is my favorite chick on the show. SHe's got the right mix between her mother and father going. I'm glad they are hinting at her and Dillon coming back around to each other.

• Canada
17 Feb 07
Yep---they are hinting at Dillon liking Lulu, but she will be got up in a triangle with Spinelli and Milo---should be interesting! Yep Jason will go back to Spammy and Elizabeth to Lucky---the Liason angst will continue and reach major proportion until SOMEONE finally let's the cat out of the bag and Jason and Elizabeth realize they belong together raising their child. I actually hope Unlucky and Spammy get together---you know misery loves company, lol! I see now that the spoilers say Spammy will bring major trouble to her mom's doorstep, that should be interesting. And Jax comes back to Port Charles and a Brenda recast. HMMMMMMMMM.....

• United States
24 Feb 07
Aww, Brenda recast?!? I wished Vanessa would come back for a few scenes to repraise her role.

• United States
20 Feb 07
I do not like Elizabeth and hate how these two spend more time talking intimately about things than they do with the ones they are paired with. She is not a good character or actress.