My House Cleaning Is Suffering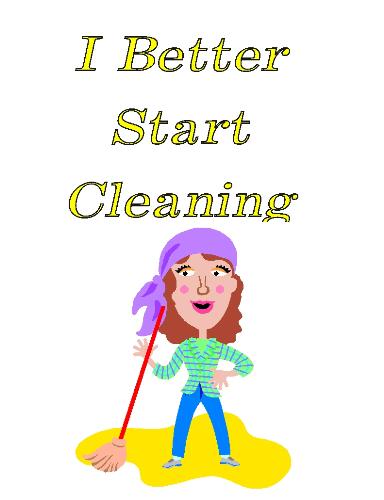 Canada
7 responses

• Ireland
16 Feb 07
My house is not too bad as there is nobody here to mess it up except hubby and myself. It only takes me a short while every morning to run the vacuum cleaner and a duster around it. However, the laundry is another matter. If I don't forget to put the laundry in the machine, I will definitely forget to take it out. I have already done this to-day. Also, I am constantly burning the dinner because I put it on the cooker and forget about it until I can smell it burning. I had to buy fish and chips for dinner to-night as I was so busy on myLot that I didn't have time to cook. I think I had better join myLot addicts anonymous. Want to join me??

• United States
27 Feb 07
Everything suffers when you get hooked to the internet. I've started making quick meals like hot dogs just so I can eat with one hand and type with the other. And I've developed this bad habit of putting my coke cans on my desk and leaving them there for days, using them for ashtrays and by the time I get the gumption up to clean it I'm filling a wal mart bag. Oh well, I'm making money so maybe I'll be able to afford to hire a maid soon. LOL

• United States
16 Feb 07
I agree with one of the upper responses. If I could find a way to even earn 5.00 a day by being on for an hour, it would be worth leaving the bathroom a mess. However, considering I have .16 cents in my account, I'd much rather live in sanitary confinements!

•
16 Feb 07
oh yes lol tell me about it , My sons PC has been broken and every time ha wanted the laptop I would say " Just a min I am just finishing this one " I was really hooked , Now I don't sign in until I have done what I have to do. My ironing was piling up too lol . My hubby asked if the laptop were stuck to my knees lol xx

• United States
16 Feb 07
I feel very sad for you if this is true. Mylot isn't paying enough money to fall behind in house cleaning. I can clean my bathroom in a few minutes and be back on mylot. I can then go wash the breakfast dishes,wipe the counters and,be back on mylot. I always find the time to clean my home. I always take a break from mylot even if only an hour. If not it gets to be too much. backaches,eye strain,wrist hurts like he**. I would rethink mylot before allowing my home to suffer.

• United States
27 Feb 07
My house cleaning suffers for a number of reasons, the main one being lack of motivation. I have 5 messy children who take after their Dad. I am up and down all day. I do a post or two and than some odds and ends around the house. Just when I think I have made some kind of impact, everyone shows up. LOL It's a never ending battle. Joining MYLOT certainly did help my housecleaning at all.

• United States
27 Feb 07
When I first started yes, i spent way more time online and in mylot than doing my housework and spending time with my son. My 4 year old son told me off the other day LOL so now i only alot an hour in the morning and an hour in the evening to check out mylot, answer a few posts, check my email and do other things I do online. So now i have ample time to keep the house clean, cook dinner without burning it and take my son out for the day.