has anybody heard of netwinner,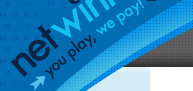 India
4 responses

• United States
28 Feb 07
Yes!! I play Netwinner alot. I started playing back in September to earn gift cards towards Christmas gifts. By the time Christmas rolled around I had already earned and collect 6 gift cards! I will tell you, the key to really earning quickly is to have referrals. You get 100 points every time someone signs up using your referral link. Then you get another 400 points when that referral reaches 100 spins. After that you earn 10% of everything they earn. So it can up quickly. It use to take up to 30 days to receive your gift card in the mail once you ordered it. But now it's taking more like 30-45 days. Here is my link if anyone wants to join http://www.netwinner.com/?signupCode=daycarepal I hope it's ok to post a link here at MyLot, if not, feel free to remove the referral link.

• India
17 Feb 07
no. i cant even join because it is for only US citizens. i am in several other programs. pls check it out. http://www.spreadcash.blogspot.com

• United States
1 Mar 07
I love NetWinner! I've been playing since the end of August and just received two more payments from them today. So far I've redeemed for & have actually been paid $175! It's very addictive, but I just love getting wally world cards in the mail every few weeks!