My friend has crush with the girl whom Iove!!!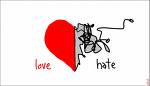 India
February 17, 2007 4:33am CST
A friend of mine loves the same gir withyn whom I have fallen in love some 2 years ago.Me, my friend and that girl are classmates. I love her dearly but haven't dared so far tell her the truth.But from her attitude it seems that She also feels the same for me. Yesterday my friend Shocked me by saying that He has crush with a girl. On asking her name, He replied the name of the girl I am in love with. It was like as if The whole of the sky fell on my head or as if the earth beneath my feet vanished. I coudn't reply him, I was startled. Now I don't know how to carry on talks with him. Should i get out of his way or let him know of our relations? I don't wanna lose any one of them!! Help me out!! Thanks Casanova
1 response

•
19 Feb 07
I think it would be best to tell both of them your feelings. Then if your friend isn't that serious about the girl he will step aside for you and if she likes you, you can go out with her, instead of just wondering what that might be like.