Did someone see "Blood Diamonds" with Leonardo DiCaprio?

Romania
February 17, 2007 1:43pm CST
well this night i see "Blood Diamonds" with Leonardo DiCaprio... Is about diamond's and life from Africa:-s i think this is the second movie that i saw and i start cry'ing..i don't why but i start crying like a girl :P i hope that this is not a bad thing. Did someone see this movie? did someone cry when he (she) see a movie?
4 responses

• Canada
18 Feb 07
Probably because it's a very touching movie, specially at the end when he was talking to the girl on her mobile phone. A lot of people i know cried. My wife was one. Nice movie.

• Romania
18 Feb 07
i have that movie on 2cd's...at cd1...i didn't cry at the second...i cry a lot...:(( i thiunk i'm crazy..:P i will never watch again at this type of movies

• Pakistan
17 Feb 07
yea i saw it ... but dint find any reason to cry ... got a bit touchy when the black dude frm siera leone was not allowed to meet his family but dint cry ... and the last scene when dicaprio gave the black dude the diamond and said him to run away ... man that was so lame ... he could have easily gone till the plane ... anyhow it was a good movie to watch ... PEACE !!

• Romania
18 Feb 07
all those waere in part 2 when i cry :P YEs was a good movie ..

• Israel
17 Feb 07
I saw the movie a month ago, and I really like it. The last part of the movie when the Nigerian came to speach was exciting, and I could guess that this is the part when you started to cry. Am I right?

• Romania
18 Feb 07
yes..at taht part :)) i cry like a baby :(((

• India
3 Dec 12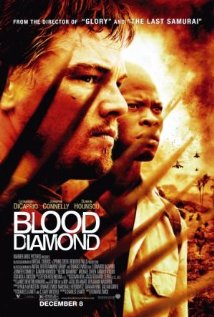 Blood Diamond is the movie which does show how diamonds are brought from Africa, even thought the story is made for a movie there are some realities to this movie. After watching Blood Diamond, I have decided not to buy diamonds ...