Forrest Gump Vs Cast Away

India
6 responses

• United States
17 Feb 07
I love Tom's characters and one of my favorites is Forrest! Cast Away was good but a little slow. The whole concept of his character on Cast Away was awesome though. I have to go with Forrest on this question!


• United States
25 Feb 07
They cannot be compared..CAST AWAY is a BORING...watching a guy talking to a volleyball got old real fast

• United States
20 Feb 07
Both of those movies were really good but I have to say that Forrest Gump was better. That is a classic movie that nobody can touch. It was cute, funny and touching at the same time. I still know people that haven't seen either of those movies and they have no idea what they are missing out on.

• Canada
20 Feb 07
You're right, both movies are masterpieces (I'm a big fan of Tom Hanks). If I had to choose a favorite though, I'd choose "Forest Gump". Forest Gump has more of a storyline to it and I found it to be a little more romantic than "Cast Away" and I'm a fan of the sappy movies.

• Greece
20 Feb 07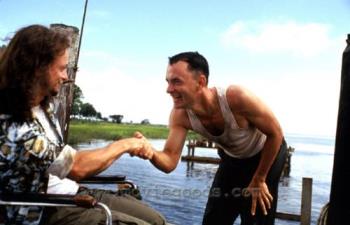 Definently Forest Gump.For mant reasons.First all the story ofthe film was more interesting and instructive.The character of Forrets Gump was perfect and a big lesson to all of us and ofcourse Tom Hanks play it very good.I gave my vote to Forrest Gump for sure.