know about eagles

Philippines
February 18, 2007 8:11pm CST
i really like eagles, i studied each stages in life and i want to share them to you. Ill start with courting of eagles. do you know that eagles are one of the few in animal kingdom that are monogamous? yes eagles have one partner in their life and will share to you how they find one. first, the female eagle will soar high, about 180 feet high from the ground. all interested male eagles will follow the female eagle, chasing her until only one male will be left. then the courting will start. female eagle will look for a stick, they have strong eysight, from above and swopp down to pick them and fly the stick at about 200 meters, approximates only, then drop them. the male eagle should be able to catch the stick with his talon before it hits the ground. then, when he is succesful, the female eagle will search for a bigger stick until it become a huge trunk of a tree, if the male eagle wont be able to catch the tree...the felame eagle will look for another suitor. that's how female eagle lokk for a partner, stiff and tiresome but this has something to do in building their family and ill return with that story. so see you guys... i believe women should adopt this process hahaha, in our country this happened long time ago, men courting the woman they love by serving her family, its a tradition, but now it seldom happen.
3 responses

• United States
6 Mar 07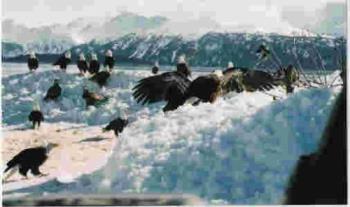 I love eagles very much too though I rarely see any around here where I live. We have some but not as many as other states or countries. I think they are very beautiful animals. It makes me sad to hear when something bad happens to them. I did not know all this information about them that you shared with us and find it very interesting.

• Philippines
6 Mar 07
good thing you liked it. im really amazed with their behavior. we have actually some seminar regading them and comparing them with the christian should live, thats why. hopefully i can share to you that book, on ways of eagles just for trivia. next time...

• Canada
21 Feb 07
Thats really interesting ... and i think the eagle is a source of strength thats why its depicted on so many flags and countries have adopted it for their mascot ... i have a picture of me with an eagle on my arm ... but i dont know how to post it ..i would love to send it to you if you want ....ok later thanks for the info ..