Passengers safe after plane slides off runway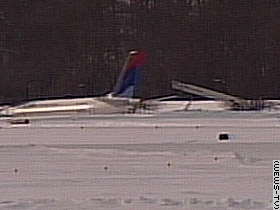 Philippines
February 18, 2007 11:07pm CST
CLEVELAND, Ohio (CNN) -- A passenger jet skidded off a runway and smashed through a fence while landing Sunday in windy and icy conditions at Cleveland Hopkins International Airport. But none of the 70 passengers and four crew members were injured, an FAA spokeswoman said. Shuttle America Flight 6448, which had taken off from Atlanta Hartsfield-Jackson International Airport, was landing in Cleveland at 3:14 p.m. when it left the end of Runway 28 and crashed through the fence, FAA spokeswoman Laura Brown said. (Watch condition of the aircraft Video) Although operated by Shuttle America, the flight was part of the Delta Connection network, Wilkinson said."For reasons unknown, the plane did skid off the end of the runway, taking out a localizer antenna array used for that runway, going through a fence line," said airport spokeswoman Pat Smith. The antenna is used to help aircraft align with the center of the runway."The nose of the aircraft is resting just barely on a roadway that is on our perimeter fence line," Smith said. Shuttle America spokesman Warren Wilkinson said the plane came to a stop about 100 feet past the end of the runway. Although conditions on the runway were listed as fair at the time of the mishap, a heavy snow was falling, Wilkinson said. CNN meteorologist Jacqui Jeras said winds of 21 mph were measured at the airport around the time of the incident. Flights into and out of the Cleveland airport were halted for more than an hour after the mishap, Smith said. A bus took the passengers to the terminal and arrangements were made for the jet to be towed to a hangar, Smith said.
2 responses

• Indonesia
20 Feb 07
Oh good, every where plane service become worse. At begining of this year, more than 100 people die in one of Asia Country, because the plane was gone in the sea. Last night, i heard from breaking news, one of Jumbo jet should landed because of navigation trouble. May be we should going back to the past, and riding by bicycle to every where... hehe

• United States
19 Feb 07
I am glad to hear everyone was safe. I am sure it was very frightening for them. I can remember leaving the Charlotte, NC, USA airport a few years back and as we were going down the runway, a plane crashed into a building, a scary site from my small window.