It's the weekend!!! What are your plans?

Canada
5 responses

• United States
27 Oct 06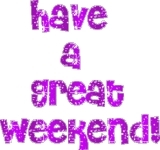 Well I don't really have any plans except relaxing with some friends and maybe watching a movie. Nothing big...lol


• Philippines
14 Oct 06
i will sit infront of a pc and log in on mylot and see how long can i do it with out a break....... greetings. : )

• United States
14 Oct 06
I will be working on our yard all day tomorrow, got people coming to mow my yard and and plan to do some tile work in master bathroom. Sunday, probably the same thing.