soda or juice?

Philippines
February 19, 2007 5:07am CST
when we eat out, i always have the 'battle of the decisions' whether to order soda or juice. well, both have their own pros and cons..but what do you think would be better of the two of them? i usually get sugar free soda..but juice seems more healthier and fresh than the ol' soda we can buy around us..so, any opinions on what drink?
4 responses

• Canada
22 Feb 07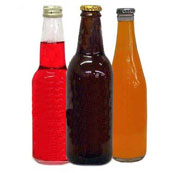 I usually drink water at a restaraunt for it is cheaper, but it also prevents me from getting full on a liquid. Liquid is another way for a restaraunt to get money out of you and some do not have unlimited refills.

• Philippines
21 Feb 07
i suggest you go for water. much healthier than soda or juice. it has no sugar content, no caffeine content, and you can drink as much as you want. :)

• Philippines
19 Feb 07
I usually order juice. But there are some foods that soda is more appropriate like pizzas. I think they would always have the same calorie content. If you are watchful of your health, better to just order water.

• Philippines
19 Feb 07
I say the juice is much healthier as long as it is freshly squeeze...not fresh from the can.