Same number plates on two vehicles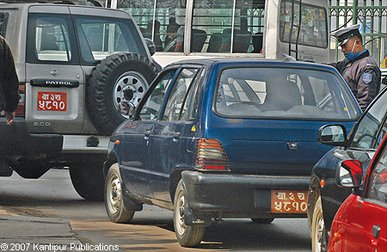 Nepal
February 20, 2007 3:19pm CST
First of all I would like you to see the picture which is attached with this post. The picture shows two vehicles with the same number plate. The picture was taken at a gas-station where vehicles were lined up to fill up. The picture is not a funny picture and it is an actual picture which shows two vehicles with the same number. After investigation it was found out that the vehicle in front was using a false license plate and it belonged to one of the government officials who claims that he did not know that the number plate was fake. What do you guys think about this picture?
2 responses

• Australia
20 Feb 07
I think it is a fake photo. The licence on the car doesn't look quite right, it stands out too much and does not blend with the vehicle. The co-incidence of both vehicles being in line together like that is too far fetched for me.

• Nepal
20 Feb 07
At first I thought of the same thing. I thought that it was a photoshopped picture. But later after reading the whole news I found out that it was for real. The number plate of the car does not seem to blend because the number plate is hangin on the car whereas the number plate is stuck on the SUV. Believe me it's for real.

•
27 Feb 07
I think if I was the car behind and saw my number plate in front of me that I'd think I was going mad and was in a delusional state. Could you imagine staring at your number plate in front of you and it's no on your car? Usually the people in high places can get away with things that us normal people can't, it's unfair but that's life for you!