Have You Ever Lost A Discussion While Writing Because Your Browser Crashed?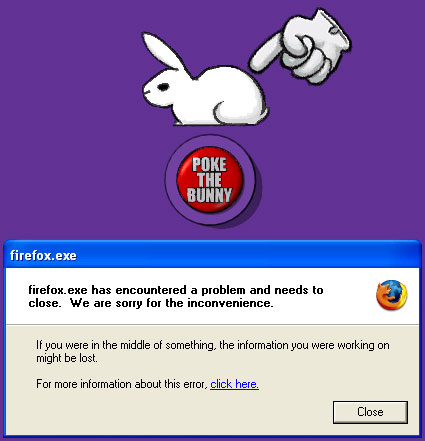 Italy
February 20, 2007 5:25pm CST
Gosh, I hate when it happenes! I was typing a new discussion before this and my browser crashed, so I lost the whole discussion. I hate that because I lost the time I spent to write that, It was a long discussion:/ I haven't the wish to retype it again, I think I will post tomorrow because I'm very tired. Have You Ever Lost A Discussion While Writing Because Your Browser Crashed? Doesn't hurt if It happens to you too?
8 responses

• United Arab Emirates
22 Feb 07
Yes, It happens with me sometimes and this makes me go crazy cause after a long writing with certain way of thinking I find it hard to write the same again. For users with more than 500 posts I think it's easy for them to come over this problem as you said by copying and paste from a notepad.

• United Arab Emirates
22 Feb 07
Many thanks and me too like your way of writing and choosing the subjects :).

• Philippines
22 Feb 07
count me in the list jamz.this thing has happened to me a lot of times. i can't even count the numbers by my fingers. Worst thing was when i was still a newbie in mylot, i was below the 500 posting mark. i could not copy and paste. So when the computer or the site itself encountered problems, in a flash all that i have written were gone. I had to retype everything, and of course organize my ideas again, and think of the right words to use. I start from scratch again. Thank GOD i finally reached the 500 posting mark and i have made it a habit to copy all my posts first before posting them. This way i don't have to retype my discussions over and over again if there are system glitches.

• Italy
22 Feb 07
very good reply I give you the best response! You had my same troubles! me too before to reach 500 whenever I copied and paste link of a video for example, it popped a message that too tell me copy and paste isnt allowed till 500 posts, and then I lost discussions in that way! It happened too in private message! Now I think it is better to take the habit to write posts before in the notepad and then post the discussion to avoid problems!

• Philippines
22 Feb 07
wow thank you for that! i really appreciate you marking my response as the best response. thank you so so much!

• United States
20 Feb 07
Too many times and then i started using netscape... no issues after that... I remember couple of times when mylot was not responding also i lost discussions... when you get back in you see that the discussion is already going offtrack and you wont feel like posting in that any more...

• United Arab Emirates
22 Feb 07
This works only for users with counter more than 500 cause less than that number you aren't allowed to paste any word while writing.


• Italy
23 Feb 07
Not on MyLot because I'm using Firefox only since 1 years. Before I used IE and many times it crashed and I've lost a lot of discussion in other forum where I'm member.. Mozzilla Firefox never crash when I'm on MyLot. It crash only when I open many tab (windows in the same window) but then I re-open the same session.


• Philippines
22 Feb 07
Like heck yeah, I really hate it when it happens especially when you're typing something long and yo put your heart in it. Then suddenly you're computer quit on you, like heck I didn't even save it...well some like to type it somewhere then paste it to Mylot. Well I can't do that yet I have to have more than 500 post to do that right...which is kinda sad.

•
23 Feb 07
Oh yes This has happened to me more times than i care to remember! It can be so annoying! I try to write it in an email now then cut and paste it into place, but at times i still forget lol