newspapeper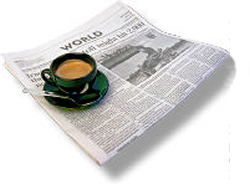 Italy
February 22, 2007 11:40am CST
Do you read a newspaper every day??? The firth: polical, crime, sport?? what agoment are the firsth????? I not.
3 responses

• United States
17 Jun 08
I get my news headlines online. No time to read newspapers. I have one favorite periodical that is printed on newspaper but is more like a magazine. It's a mommy magazine newspaper. It's lots of fun to read.


• India
23 Feb 07
yes, positively. me and my husband are in a regular habbit of reading it daily. then we together sit on crossword puzzle and miss - match where two identical pics. are seen but one has slight difference from the other. which we have to find. we love to do that. beside reading newspaper, i love to read books and study on internet too, when ever i get time.