could you be a spy or a secert agent? what would make you a good one?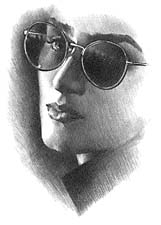 United States
9 responses

• Ireland
22 Feb 07
When I was a kid and watched these type of movies on tv, I often thought I would love to be a secret agent. All the cloak and dagger stuff seemed very exciting. Now when I see the secret agents in the movies, it doesn't appeal to me at all. I would be the biggest coward alive. I don't have what it takes to be a secret agent or a spy.

• United States
22 Feb 07
LOL this is a funny question as I remember when i was in grade school, my best friend and I used to pretend that we were secret agents. We had so much fun doing it. I dont think I ever outgrew this. I still would love to be a secret agent. I would not be good at it as I am not one to go into dangerous territory.


• United States
23 Feb 07
I don't think I would be a good secret agent as I am not a very aware of surroundings sort of person ...but it would definetly be an exciting life to learn things that might save a life or a country one day ...but then there is the down falls of the job too ...people trying to kill you is not fun ...

• United States
23 Feb 07
Because I used to look like a typical "dumb" blond but was anything but!!!

• United States
22 Feb 07
I think that I would probably make a pretty good secret agent or spy since I like to keep an eye on things, whether at work or at home. I had to keep track of a ex coworker quite often since he was always up to no good and getting into trouble. I had to pay attention to whatever he did so I could document it and report his behaviors to management. He eventually got fired because of the things he was doing. I can be pretty sneaky and have good awareness around me and write things down.


• Canada
24 Feb 07
I think I would make a good spy. When I was in the miltary (Canadian) they used to make us watch all the spy propaganda movies. I always thought I would love to go inflitrate another country and become a spy. I think I could be pretty coy and become part of the group no problem. I am not shy so I have no problem talking to people and getting to know them. This would help in becoming a spy.

• United States
22 Feb 07
No, I never could be one. I am not into that kind of excitement. I would fail if I were tortured, and spill my guts. I don't want to sneek and pry or pretend, it isn't me.