Kids Competitions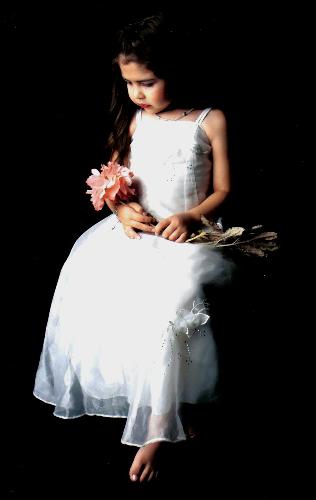 United States
February 22, 2007 5:05pm CST
Have you ever entered your child in a competition of any kind? This photo was taken for a competition for a 1000 dollar savings bond for our daughter. She did not win and I am puzzled as to why. However, this and the other photos were wonderfully fun for her. I decided to allow my daughter to enter competitions but the moment I hear her say enough it is over. I am not an affirmed believer in kids competitions. In fact it took a good two weeks of begging to accomplish my approval on this one. What do you all think of these competitions for young children?
4 responses

• Philippines
23 Feb 07
competition should be good for the kids...and FUN. I think that's the most important element for the kids to enjoy competing. If competition just turns to be a chore and too stressing, I'd pull out the kids asap. I don't think they need such stressful situations so early in their lives.

• United States
23 Feb 07
I agree with you. Besides, she has a new hobby now that keeps her plenty busy and very motivated more than the competitions...the Girl Scouts. She has only been involved for a month and I have never seen her so happy. She loves all the various out door activities that they have done and quite honestly, I am having some fun myself.

• United States
23 Feb 07
When you do them for fun then i think competitions are great. But when the child dosent enjoy them, Its just wrong to make them do it. When my son was a baby i used to enter in his pictures for photography contests, just because he was a cute baby. There are also cutest kid competitions in my local town, sometimes when i see the kids all over dressed and looking unhappy i wonder why the parents are doing that. Some kids love that kind of attention others dont. If your daughter enjoys them, i would let her have fun!

• United States
23 Feb 07
There have been a few times that she has been unhappy and I have pulled her out of the competition. Then she wants to start again on something else. At first, some parents cringed on us doing that but at least my child is not miserable and resentful so young at life. Most of these children that are pushed into the competitions are fould mouthed to their parents. That is to say not all kids are like that. It's just what I have observed. When she is happy, then I am happy to let her do her competitions.

• Canada
22 Feb 07
competition is just for fun... don take it on your heart if didnt win... i think child competitons are healthy start... kids will elarn to participate in and they will learn win and lose is a part of a life...

• United States
22 Feb 07
Oh, we didn't take it to heart. Neither did my daughter. She was more thrilled about the fact that she got to change into verious fund outfits and pose for a camera. To her, she was playing dress-up. I believe you are right. It is healthy for them. It's when we, the parents, take it too far and ignore the cries to stop that it can turn ugly. Hence the reason i made up the rule I did.

• Canada
8 Mar 07
I belivve compettion is healthy for a child so long as the parent is there to support the child adn not push the child into it. The child has to want to do it adn the parent should support them. Soem parents live vicarously thru there children they were not good at what they tried to compet in but there child is forced into it and pushed to be better than the parent was this is wrong. Mine have entered into several sports and competted soemtimes they win sometimes they loose but they understand that they did there best and they had nothing left so win or loose they are proud of what they accomplished. This was the hardest lesson for them to learn.

• United States
10 Mar 07
I think you are right. It is healthy to have a little competition in their lives. I think it teaches them to work hard for their goals but to accept defeat when it comes with dignity and grace.