Videos or DVDs for your Cat

United States
February 22, 2007 11:56pm CST
Has anyone out there ever bought a videotape or DVD for your cat to watch? Did your cat/s actually watch it? I once bought a videotape for my cats, thinking it would be something for them to do for at least part of the time I was at work. One cat loved it. She was right by the TV every time I put it in, even when it was still doing the FBI warning. She knew it was her tape. The other cat took no interest in it at all. Eventually even the cat who did like it got bored with it, but it's been awhile since they've seen it, so maybe I'll get it out again to see if the one cat takes an interest in it again. I figure it's sort of like a child getting bored with a toy, and then getting interested in it again after they haven't played with it for awhile. But I thought it was interesting that one cat loved it, and the other didn't care about it at all.
4 responses

• United States
23 Feb 07
I am such a sucker! My husband and I bought one of those videos for cats at Petsmart. The sales clerk said that she bought the video for her cats and they loved it. We bought it because we thought maybe it would keep her from being so upset whenever we're not home. She didn't even pay attention to it. I've seen her watch tv before and I thought a program that is designed for cats and features birds and mice and the like that makes a lot of realistic noise would grab her attention - but it didn't.

• United States
23 Feb 07
I guess your cat is like my one who didn't pay attention to the cat video I bought. It's funny how some do and some don't. That's interesting that your cat wouldn't pay attention to the video if she watches TV. Maybe she likes "people shows" better! Thanks for your comment.

• Canada
23 Feb 07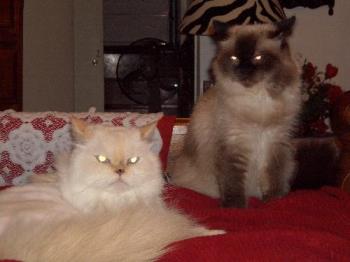 I have one cat that use to watch Americas Funniest Animals. She knew when it started and would come and get us to turn the T.V. on. Sometimes she would jump behind the tv looking for the animals, she liked the birds the most. She stopped doing it about a year ago though.

• United States
23 Feb 07
How cute! I wonder how she knew when it was on. I think they do get habituated to things like that after awhile and stop showing interest. Thanks for your comment!

• United States
23 Feb 07
I have two dogs and the movie snow dogs came on and they sat and watch the entire thing. We went out and bought the movie so they could at least listen to it when we were not in the house and if it is on when we come home, they are both howling and barking back at the television. My dogs also bark when we have the discovery channel on and there are certain animals on.

• United States
23 Feb 07
How funny! I guess some cats and dogs do like TV shows, videos, etc. Thanks for your comment!

• United States
23 Feb 07
I haven't bought my cats a DVD yet, but they do get really into what's on TV sometimes. What is really funny is when they attack the screen randomly for apparently no reason. They don't like anything with Donald Trump- they bat at him the most often.

• United States
23 Feb 07
Ha ha ha! They sound like smart cats. I haven't really noticed my cats getting into "people shows." Maybe they'd like Animal Planet or something. Thanks for your comment!